City adopts updated building codes
The Friona city council met in regular session Monday November 12, 2012, at 6:30 p.m. in council chambers at 619 Main St. Mayor J.B. Douglas and councilman Mark Osborn were absent. Councilman Jim Atwell presided as Mayor Pro-Tem. Council members Martha Barker, Greg Lewellen, Charlie Pope, and city manager Patricia Phipps were present.
The majority of the agenda pertained to updating the city's building codes, specifically mechanical, plumbing, residential, fire, and electrical codes. The last update of Friona's building codes was in 2000. Scott McDonald, an Amarillo building code inspector, addressed the council about the updates that pertain to new construction or remodeling of an existing structure.
The codes that were adopted by the council include the state requirements for more efficient systems in the future, i.e. digital thermostats, fire and carbon monoxide alarms, and lighting. The State Energy Conservation Office (SECO) codes were adopted unanimously by the council.
In other action the council approved the Atmos Energy rates and reviewed and approved the October financial statements and accounts payable.
An agenda item allowing the city manager to take over accounts payable and payroll operations for Prairie Acres/Heritage Estates was discussed but no action was taken. City manager Phipps had planned to take over Prairie Acres management in January.
However, Phipps told the council that her assistant Kelly Daniel will be leaving at the end of December and she will not have adequate personnel to assume the full Prairie Acres management role. Instead she has temporarily re-hired the management company, Transition Services, at a rate of $5,500 per month to continue to handle payroll and accounts payable in the interim. The contract with the management company was scheduled to end in January. Under the prior arrangement Transition Services was being paid $13,200 per month.
The next meeting of the city council will be Monday December 10, 2012 at 6:30 p.m. All council meetings are open to the public.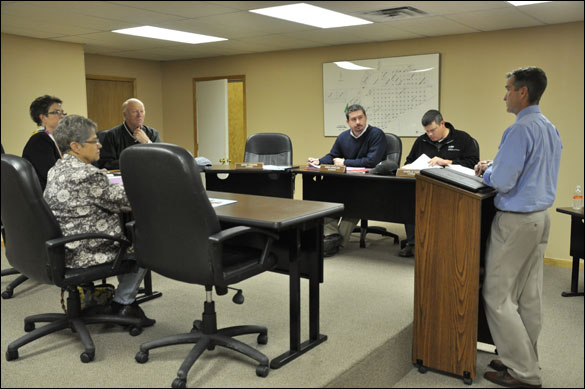 ron carr photo
Amarillo building code inspector Scott McDonald, right, addresses the Friona city council Monday evening. The council approved updates to the city's building codes to current specifications. Friona codes had not been updated since 2000. Clockwise around the table, councilwoman Martha Barker, city manager Patricia Phipps, councilman Jim Atwell, and councilmen Greg Lewellen and Charlie Pope. Atwell presided as mayor pro-tem in the absence of Mayor J.B. Douglas.