Willie Braillif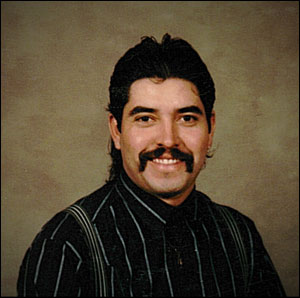 Willie Braillif, 52, of Friona died Sunday November 11, 2012 in Friona. Graveside services were held at 1:00 p.m. Tuesday, November 13, 2012 at the Friona Cemetery with Paul Garcia, Chaplain of Samaritan Hospice in Hereford officiating. Burial followed by Blackwell-Mullins Funeral Home of Friona.
Willie was born August 20, 1960 in Dimmitt to Willie Braillif, Sr. and Genevia Saiz Braillif. He was a landscaper, handyman, loved to fish, hunt, play golf, and spend time with his family, especially his grandchildren.
He is preceded in death by his father.
Survivors include his mother of Friona; one daughter, Miranda Braillif of Burnett; one son, Angel Braillif of Marble Falls; two brothers, Eddie Braillif of Marble Falls and Raul Braillif of Friona; three sisters, Gloria Reyes of Amarillo, Cindy Maldonado of Amarillo, and Lupe Taylor of Friona; a long time friend Lupe Soliz of Burnett; and ten grandchildren.
You may sign the online guest book at www.blackwellmullins.com.