The Friona FFA team of Coke Capshaw, Sawyer Osborn, and Brady Hansard won the Area 1 Leadership Development event in Radio Broadcasting held last Saturday at WTAMU in Canyon. They competed against 11 other Radio Broadcast teams that qualified for the Area contest from the six FFA districts in Area 1.
Only the top two teams from each area qualify to go to the State FFA Leadership Development event held at Sam Houston State University in Huntsville. Ten areas make up the Texas FFA so Friona's team is already in the top 20 in the state.
The Friona FFA's Radio Broadcasting Team delivered a radio program over Texas Wind Energy and the impact that industry is making on small rural communities in the Panhandle and South Plains of Texas. They will compete in the semi-finals on Friday November 30 and hopefully will advance to the finals that are held on Saturday December 1. The Friona FFA ag instructor is Tracy Blount.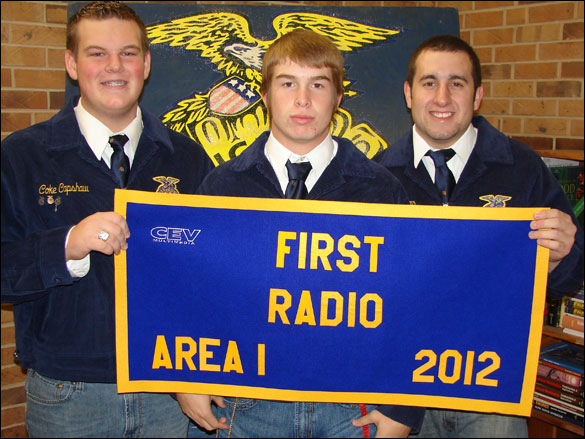 courtesy photo
The Friona FFA Radio Broadcast team won 1st place in Area competition and is headed to the state meet in Huntsville. From left, Coke Capshaw, Sawyer Osborn, and Brady Hansard.