Esequiel Garcia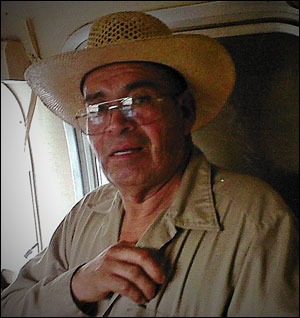 Esequiel Garcia, 62, of Friona died Wednesday, November 14, 2012. Mass of Christian Burial was held at 11 a.m. Friday, November 16, 2012, at St. Teresa's Catholic Church in Friona, Texas, with Reverend Anthony Swamy Aakula, Celebrant. Burial followed at Friona Cemetery. Arrangements were by Blackwell-Mullins Funeral Home of Friona.
Esequiel Garcia was born on April 6, 1950 in Mexico to Antonio Garcia and Paula Savala Garcia. He married Rosa Hernandez on November 23, 1966 in Mexico. He worked as a farm laborer in Parmer County. He was a member of St. Teresa's Catholic Church. He was preceded in death by his father and two sisters.
Survivors include: his wife Rosa Garcia of Friona; three sons, Rafael Garcia of Friona, Thomas Garcia of Hereford, Texas, and Damian Garcia of Earth, Texas; five daughters, Teresa Garcia of Hereford, Guillermina Garcia of Muleshoe, Texas, Violeta Lopez of Lazbuddie, Texas, Brenda Garcia of West Palm Beach, Florida, and Abigail Garcia of Mexico; four brothers, Francisco Garcia of Mexico, Guillermo Garcia of West Palm Beach, Florida, Efrain Garcia of West Palm Beach, Florida, and Jose Garcia of Mexico; two sisters, Rosa Garcia of Mexico and Anna Garcia of Hereford; and 21 grandchildren.
You may sign the online guest book at www.blackwellmullins.com.
Keith George Brock, 79, died Friday, November 16, 2012, in Amarillo, Texas. Memorial services will be held at a later date. Arrangements by Brooks Funeral Directors of Canyon.
Keith George Brock was born February 18, 1933 to George and Laverna Wimberly Brock in Hereford, Texas. He graduated from Texas Tech University with a degree in Agronomy. He was stationed in Germany while serving in the U.S. Army.
Keith farmed in Friona for many years, then in his later years he drove a truck and bragged that he had been in 48 of the 50 states. He loved motorcycles, photography, camping, and fishing and was a 32nd degree Mason at Friona Masonic Lodge. The family wishes to thank Georgia Manor for their excellent care.
Survivors include a sister, Sandra Brock Roots of Stowell; a daughter, Rene Sellers of Lubbock; two sons, Phil Brock of Canyon and Greg Brock of Lantana; and seven grandchildren.
Please sign the online guest registry at www.brooksfuneral.com.