Town Talk II
by Ron Carr
A short week this week here at the Star. We printed one day early because of the holiday. The Star went to the post office on Wednesday instead of the normal Thursday. Folks out on the routes and out of town will still receive their paper at the normal time. Folks in town might have gotten them a day earlier.
*****
Happy Thanksgiving holiday to one and all. Some will have to work on Thursday. Others will be more stuffed than the turkey and will take a nap during the football games. I will be spending a couple of days in Denton with some of my kids. Driving down Thursday. We will probably have some leftover turkey at Furr's Thursday afternoon and no doubt get in some shopping during the weekend. I'll be giving thanks for what I have and what I don't have.
*****
E.G. Phipps was in an Amarillo hospital as of Monday this week with pneumonia. Emma Lou Stewart remains in PMC awaiting back surgery. Wanda Jones was in an Amarillo hospital. Let's remember those who are ill or grieving this Thanksgiving. (more...)
The Friona FFA team of Coke Capshaw, Sawyer Osborn, and Brady Hansard won the Area 1 Leadership Development event in Radio Broadcasting held last Saturday at WTAMU in Canyon. They competed against 11 other Radio Broadcast teams that qualified for the Area contest from the six FFA districts in Area 1.
Only the top two teams from each area qualify to go to the State FFA Leadership Development event held at Sam Houston State University in Huntsville. Ten areas make up the Texas FFA so Friona's team is already in the top 20 in the state. (more...)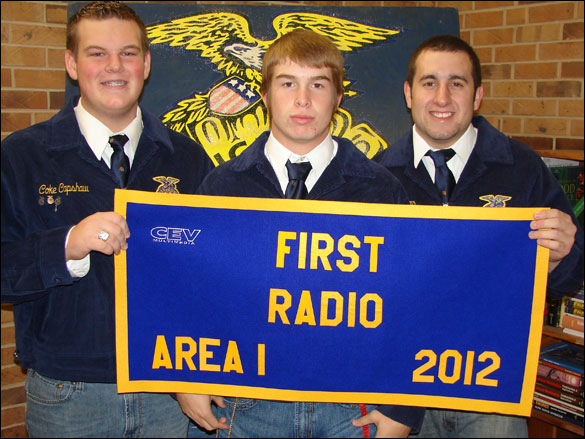 courtesy photo
The Friona FFA Radio Broadcast team won 1st place in Area competition and is headed to the state meet in Huntsville. From left, Coke Capshaw, Sawyer Osborn, and Brady Hansard.
Project Christmas Card benefits PMC
The annual Project Christmas Card program, sponsored by the Parmer Medical Center Auxiliary, is now underway. Proceeds from donations to Project Christmas Card are used to purchase equipment for the hospital. Auxiliary coordinator Connie Neelley said the hospital hopes to be able to purchase an additional air flow mattress with this year's proceeds.
The air flow mattresses are used for long term patients, primarily elderly, to assist with comfort and to prevent rashes and/or other wounds from occurring by lying in one position for too long. The mattresses also provide movement for otherwise immobile patients. (more...)