Town Talk II
by Ron Carr
They call it a dusting. That's all we had for snow Monday morning. Didn't add up to any moisture but caused some slick roads around the county. Several accidents Monday morning of the "sliding into the ditch" variety. A couple of accidents Monday afternoon west of town near Cargill had nothing to do with the snow, which was gone by then. No moisture in the forecast for the next several days.
*****
The First Baptist Church adult choir will present the Christmas Musical "Jesus, There's Something About That Name" on Sunday evening December 16 at 6 p.m. The musical will be followed by the Candlelight Service and Lottie Moon ingathering. Everyone is invited.
*****
We send thanks to Mitch Terry and his automotive class from last year for building the many lighted stars that are shining on Main St. If you haven't been down Main St. after dark take a ride and enjoy. The stars are very nice and present a consistent image along the street. Uncle John White would be proud. Thanks Mitch and students.
*****
Friona Heritage Estates will have their Christmas open house at 5 p.m. Tuesday December 18. Everyone is invited to stop by and see the festive decorations and enjoy a cup of refreshments. Heritage Estates is a very nice facility. Stop by and visit the friendly folks. (more...)
Mayor plans move to Amarillo in 2013
The Friona city council met Monday December 10 at 6:30 p.m. in council chambers at 619 Main St. All council members were present. Several boys from Cub Scout Pack 56 were present along with their pack leaders.
Prior to the start of the official agenda, Mayor J.B. Douglas told council members he plans to move to Amarillo by the end of March 2013. He and wife Johnny are having a garden home built in north Amarillo near the medical complex. Mayor Douglas was re-elected last May to serve a two-year term. (more...)
Squaw results at Farwell tourney
The Squaws placed 5th at the Farwell tournament last weekend. On Thursday they lost to Anton 36-63. Anton outscored the Squaws 35-13 in the second half. Scoring for Friona: Hicks 9, Miller 8, Murphree 6, Strohmayer 5, Preston 4, Posada 2, Juarez 2.
Friday's game was with Christ the King and the Squaws won 68-28. (more...)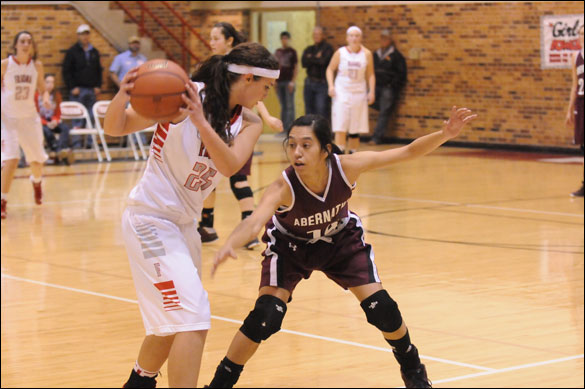 ron carr photo
Brianna Miller (25) plays keep away with an Abernathy Lady Lope Tuesday night at Friona gym. The Squaws won the district opener 51-43 and travel to Muleshoe Friday Dec 14 for a district match with the Lady Mules.