Town Talk II
by Ron Carr
Nice big crowd at Monday evening's Christmas in the Park celebration. Thanks to Dana Campbell for the idea and a whole slew of volunteers that decorated and participated. There were booths of food and drink, lots of nice lighting displays, and a long, long line of kids to see Santa. I heard that Mike Pope was influential in getting Santa to attend. Thank you everyone for the great effort.
*****
The Friona high school FCCLA is collecting gently used clothes, toys, and stuffed animals to help the less fortunate children and teens in our community. Donations can be brought to the high school during the day or to the home basketball games December 11 and December 18. For more info contact Patsy Allen.
*****
The Friona United Way budget for 2012 is $66,250. Cargill has made a $12,000 donation. Solicitation letters have been sent to past donors. You can help by making a donation at Friona State Bank or mailing a check , payable to the United Way of Friona, to Larry Knowles, 801 Arrah, Friona, Tx 79035. Larry is the treasurer of the local United Way. Some of the organizations helped by the United Way are Scouts, Kid's Inc., 4-H, Meals on Wheels, Senior citizens, Child Welfare, and the Empty Stocking Fund. (more...)
The impact of agribusiness on Parmer County
Parmer County's agricultural value exceeds $604.9 million.
The 4,065 agricultural related employees account for 86.5% of all private sector employment.
Parmer County ranks third in overall cash receipts, 2nd in ensilage, 3rd in dairy, and 7th in corn, fed beef and cow-calf/stockers receipts among all Texas counties.
The county ranks 4th nationally in the value of cattle sales and 12th in overall value of livestock, poultry and other products.
This analysis does not include the impact of agriculturally related public sector employees or the 796 farm and ranch operators.
Most of Parmer County's 882 square mile land area is used for agricultural purposes, with 437,000 acres under cultivation and another 124,000 acres in pasture. Crop production is an important part of the local economy, generating an average of $153.2 million annually over the 2008-2011 time period. Approximately 175,000 irrigated acres provide flexibility with respect to the type of crops that can be grown in the county. Parmer County ranks 2nd among Texas counties in ensilage production, 7th in, 9th in hay, and 12th in sorghum. Corn sales lead crop receipts, with $46.4 million average annual sales from 2008-2011. The county also produces $10.4 million in other crops which include vegetables. (more...)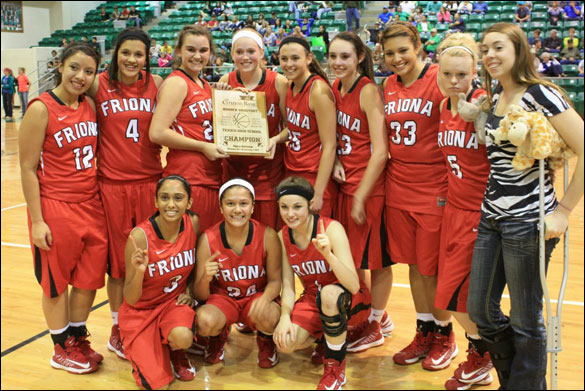 courtesy photo
The Squaws won the championship trophy at the Texico tournament. Front, l-r, Sajal Patel, Marisol Posada, Kalley Preston; standing, l-r, Nohely Juarez, Christian Greene, Dakotah Hicks, Maddie Murphree, Brianna Miller, Kendall Kimbrough, Adilene Adame, Tai Strohmayer, and Ashli Smith.
Squaws are champions of Texico tournament
The Friona Squaws won three games to sweep the championship at the Texico, New Mexico tournament last weekend.
Thursday November 29 they beat the Texico JV 60-25, led by 20-points from senior post Dakotah Hicks. Other scoring; Maddie Murphree 10, Marisol Posada 7, Kalley Preston 4, Nohely Juarez 4, Brianna Miller 4, Adilene Adame 4, Kendall Kimbrough 3, Sajal Patel 2, Christian Greene 2.
On Friday the Squaws had a rematch with the Farwell Lady Blue. The Squaws lost to Farwell three days earlier but not this time. They got revenge by beating the Lady Blue 52-32. Hicks again led scoring with 19 points, followed by Posada 13, Miller 10, Murphree 4, Preston 2, Kimbrough 2, Strohmayer 2. Miller had two 3-pointers. (more...)