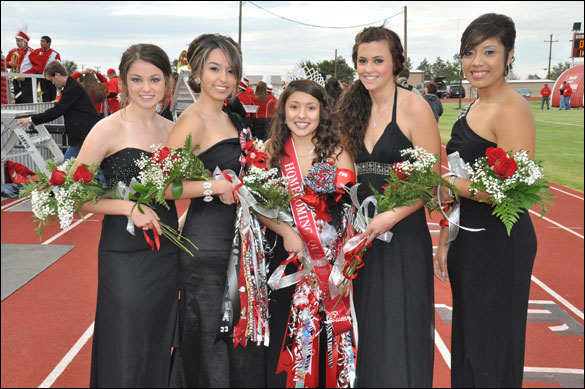 ron carr photo
The 2012 Friona Homecoming Queen is Bianca Romero. The queen court was presented prior to the homecoming game Friday night. From left are Kalley Preston, Brenda Arzate, Bianca Romero, Brianna Miller, and Nohely Juarez. More photos from the homecoming ceremonies available at in our photo section.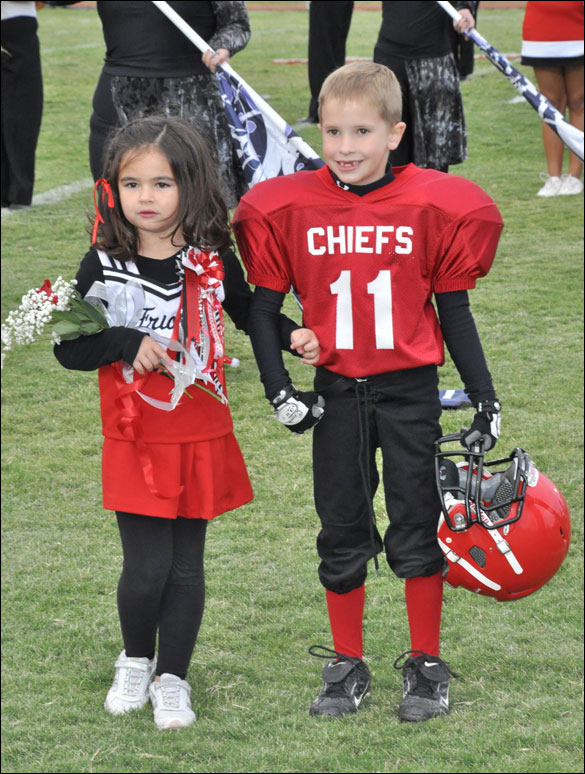 ron carr photo
The homecoming mascots are Ava Haddock and Gage Campbell.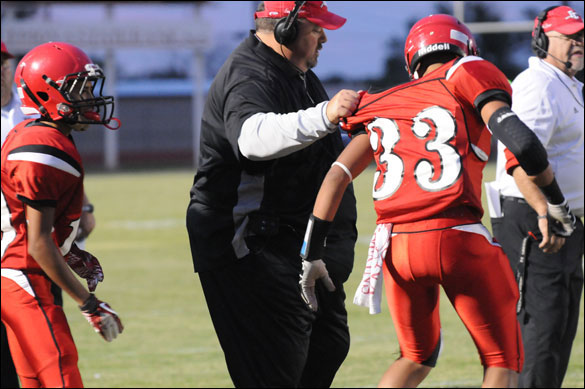 ron carr photo
Offensive coordinator Coach Daniel Hutchins holds on to Antonio Adame (33) while he gets ready to send in a play. The Chiefs lost to the River Road Wildcats and head down to challenge the Idalou Wildcats Friday September 21.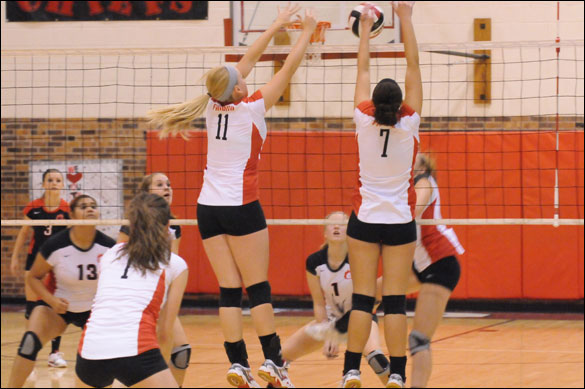 ron carr photo
Senior Squaws Maddie Murphree (11) and Brianna Miller (7) block a Brownfield shot during Tuesday evening's match. The Squaws won 3-0 and host a match with Olton here Saturday September 22. This is the District opener. JV at 12 p.m. and varsity at 1:30 p.m.
Cancer Coalition plans pink out
The Parmer County Cancer Coalition is taking orders for pink t-shirts and planning a 'pink out' night at the Chiefs vs. Muleshoe football game October 12. They also hope to 'pink out' the stands for the October 11 junior high games and the Squaws volleyball game on October 13. They are also promoting 'pink out' night at games in Bovina and Farwell on October 26.
The pink t-shirts are available in short and long sleeves. The Friona t-shirts feature a tomahawk and the Bovina shirts a mustang. The cost is $6 for short sleeve and $10 for long sleeve. They are in youth sizes also. Cancer Coalition co-chair Jamie Lewellen says they will be sending handouts home with each student in primary, elementary, and junior high. (more...)
Town Talk II
by Ron Carr
The Friona Country Market Arts & Crafts Show is being planned for November 9-10. If anyone is interested in a booth contact Kristina Anthony at 295-6951 or email frionacraftshow@gmail.com. Admission will be free, drawings for door prizes at each booth, and Canna Ray will be catering at the concession stand again this year.
*****
The Parmer County Tax Assessor's office in Farwell will be closed Tuesday September 25 for staff training in Amarillo.
*****
Likewise the Friona city offices will be closed Friday, September 28 for year-end procedures. The city fiscal year ends September 30.
*****
Friona Police Chief Frank Mooney is planning a National Night Out October 2 from 7-9 p.m. at the community center. Other law enforcement agencies and emergency agencies will be involved. The public is encouraged to attend. See the Chief's Corner in this Star for more details.
*****
Congratulations to Lynn and Bernie Gowens who celebrated their 55th wedding anniversary on September 17. If you or someone you know are celebrating a special anniversary let us know. Be happy to mention it.
*****
The winner of the fire department 4-wheeler raffle was Eddie McBride. The drawing was held at 2 p.m. Saturday in the city park. The firefighters say thank you to everyone who bought tickets and sausage wraps to support our local fire volunteers. (more...)
The Chief's Corner
by Frank Mooney
The Friona Police Department will be hosting National Night Out on October 2, 2012 from 7 p.m. to 9 p.m. at the Friona Community Center on Hwy. 214 north of Hwy. 60.
National Night Out is a nationwide effort to being neighbors closer together and combat crime and drug use. We have invited several police departments including Hereford, Muleshoe, Parmer County Sheriff's Office, and DPS to attend, as well as a med evac helicopter. Free child fingerprinting will be available.
The Friona Fire Department will be grilling free hamburgers and free drinks will be available. Members of other community groups will be present promoting safety in the community. The Panhandle Council of Governments will be presenting the local Community Emergency Response trailer and the "Amby" robot to welcome the local children. Free bounce houses will be available for the children.
This will be a fun event to help fight crime and drug use in the local area and bring the community closer together to make the community safer. (more...)
Chiefs lose to River Road 15-6
A standing room crowd of homecoming fans packed Chieftain Field Friday night for the Chieftain vs. River Road homecoming game.
River Road put together 240 total offensive yards to hand the Chiefs their second loss 15-6. The two touchdowns for the Wildcats came in the first half. The Chiefs were held scoreless until Paco Martinez scored on a one-yard quarterback sneak late in the 4th quarter.
Martinez led rushers with 49 yards on 9 carries. Stephen Dominguez added 14 yards on 7 carries. Quarterback Mason Loflin completed 8 of 17 passes for 77 yards and had two interceptions. Justin Rocha caught three passes for 35 yards and Sawyer Osborn had two catches for 9 yards. The Chiefs had 83 yards passing and 77 rushing for 160 offensive yards.
On defense Brad Stowers had two interceptions for the Chiefs, one batted down pass, and three solo tackles. (more...)
Squaws sweep Plainview, Brownfield
From Coach Bryan Masse
The Squaws volleyball team traveled to Plainview Saturday for a match with Plainview Christian. They put together one of their best matches of the season and swept the Lady Eagles 3-0.
The Squaws won on basic serving, passing, hitting, and blocking. We did a good job of hitting our target areas serving and keeping our errors to a minimum. Passing was another bright spot for the ladies as they kept their errors down and made good passes to keep their teammates in system.
Our hitters did a good job hitting smart and making very few errors. The setters also played a smart match. The front row had several key blocks and never allowed Plainview to get comfortable. Overall we showed improvement and that is a big plus going into district play.
On Tuesday evening the Squaws hosted Brownfield. In the first match the C team fought hard but lost two close games 23-25, 21-25. (more...)