James Loyd Pope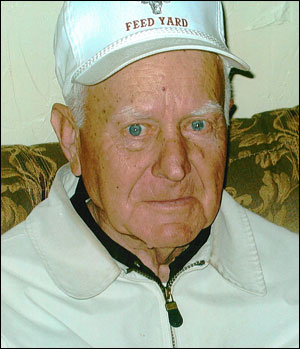 James Loyd Pope, 82, of Friona died Sunday, September 16, 2012 in Friona. Funeral Services were held at 10:00 a.m. on Wednesday, September 19, 2012, at the Tenth St. Church of Christ in Friona, with Jay Henderson, Ron Smiley, and Steve Knoll officiating. Burial followed in the Friona Cemetery by Blackwell-Mullins Funeral Home of Friona.

Mr. Pope was born May 10, 1930, in Floyd County to Leonard Davis and Iva Irene Smith Pope. He was a veteran of the U.S. Army serving as a Corporal in the artillery division. He was a long time maintenance man at Cargill. He loved buying and selling classic cars and playing checkers, and in his retirement loved salvaging cans and miscellaneous metals. He was a member of the Tenth St. Church of Christ.

He was preceded in death by his parents; his wife, Linda; two sisters, Emma Lou Wyly and Glenna Mae Bainum; and one brother, Smith Willford.

Survivors include three sons, Mike Pope and wife Bonnie of Friona, Terry Pope of Lake Tapps, Washington, Gary Pope and wife Francis of Muleshoe; two brothers, Fred Pope of Boise, Idaho, and Gene Pope of Dumas; five grandchildren; and 14 great-grandchildren.

The family suggests memorials be made to Prairie Acres Nursing Home, 201 E. 15th St., Friona, Texas 79035.

You may sign the online register book at www.blackwellmullins.com.

Larry Eugene Fairchild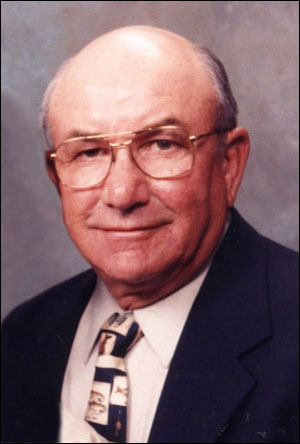 Larry Eugene "Butch" Fairchild, 72, of Adrian, Texas died Thursday, September 13, 2012. Memorial services were held at 2:00 p.m. on Saturday, September 15, 2012, at the Adrian School gymnasium. He passed away due to complications from amyloidosis. Arrangements were by Boxwell Brothers Funeral Directors.
Mr. Fairchild was born October 18, 1939, to Eugene Lester "Hap" and Julia O'Brian Fairchild. He was a graduate of Friona High School in 1958. He married Paula Dean Neel on June 10, 1958, in Friona.
Born in Clovis, New Mexico, Larry loved West Texas and was a lifelong farmer and rancher beginning in the Friona area and moving to the Adrian community in 1974.
He served on many governmental and civic boards over the years, including Adrian Independent School District Board of Trustees and as a director of Panhandle-Plains Federal Land Bank. He served as a member of Adrian Lions Club and Adrian EMS. He was a recipient of the Oldham County Man of the Year award and Oldham County Soil and Water Conservation District Farmer of the Year award.
He served as an elder for the Adrian Church of Christ. He also served as a mentor for the Christ Prison Fellowship at the Neal Unit. He was a true humanitarian, volunteering on medical mission trips to Ecuador and led his life based on true Christian values.
He was preceded in death by his parents, and his infant son, Larry Dean Fairchild.
He is survived by his wife, Paula; two daughters and their husbands, Tammy and Mark Gammon of Friona and Vicki and David Crain of Round Rock; one son and his wife, Jeffery and Patty Fairchild of Amarillo; eight grandchildren, Heath Gammon, Lori Rutledge, Matt Gammon, Lindsey Tatum, Tyler Fairchild, Logan Fairchild, Caroline Crain and Miles Crain; a great-grandson, Trenton Fairchild; and a sister, Marilyn "Chuck" Blackburn.
The family requests memorials be made to Amarillo Bible Chair, 2501 S. Jackson, Amarillo, Texas 79109, or Key to the Kingdom, 1406 SW 62nd Ave., Amarillo, Texas 79118.
Sign the online guestbook at www.boxwellbrothers.com.