Chiefs work hard but lose to Idalou
The Chieftains traveled to Idalou last Friday and gave the state-ranked Wildcats something to think about. The boys showed positive signs as they drove well on offense and shut down several Wildcat drives.
But the Wildcats had too much experience and weight advantage as they shutout the Chiefs 28-0. The Chiefs had 196 rushing yards behind the aggressive running of Stephen Dominguez (14 carries/82 yards) and Omar Ramos (18 carries/79 yards). Francisco Martinez added 35 yards before leaving the game in the 4th quarter with an ankle injury.
The stiff Idalou defense allowed quarterback Mason Loflin only 1 of 9 pass completions for 12 yards and intercepted him twice. The completion was to Diego Licerio. A field goal attempt by Licerio in the first quarter fell short. Idalou added up 292 yards of offense, 163 rushing and 129 passing. Brad Stowers had an interception for the Chiefs.
Starters Eduardo Rojas and Adrian Prieto were not able to play due to injuries from the River Road game. The Chiefs host Lubbock Roosevelt at Chieftain Field Friday September 28. Game time is 7:30 p.m. Roosevelt was open last week and comes in with a 0-3 record. Friona is also 0-3. One team will get their first win Friday night. Go Big Red.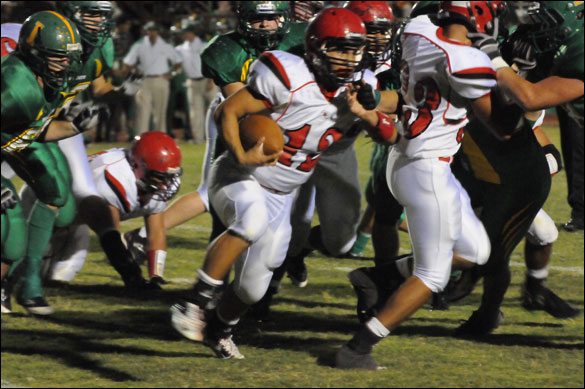 ron carr photo
Omar Ramos (12) picks up yardage against the Idalou Wildcats. The junior running back gained 79 yards on 18 carries.