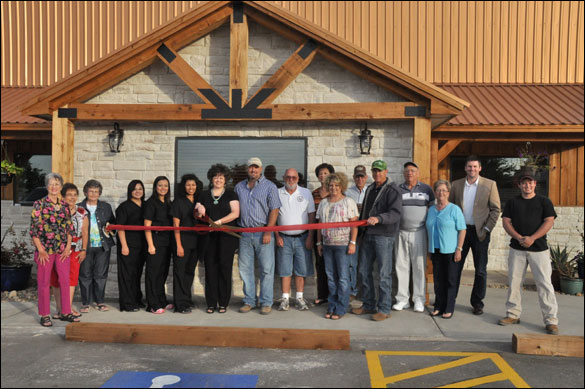 ron carr photo
Members of the Bovina Chamber of Commerce and friends gathered Monday September 24 for a ribbon cutting for the medical practice of Kim McArthur, FNP-C, at the new facility at 1100 Hwy 86 in Bovina. The new building, formerly Bovina Pump, houses Mrs. McArthur's Family Healthcare Clinic and Dr. Mindy Neal's Chiropractic Clinic.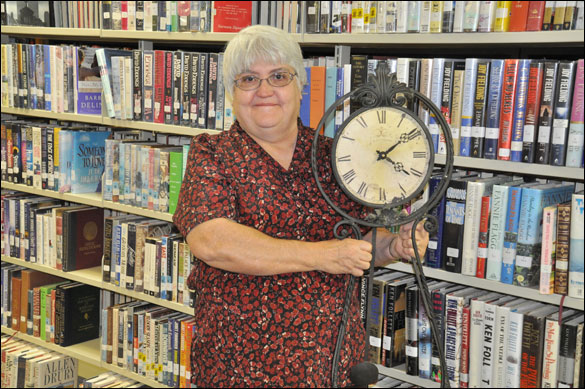 ron carr photo
Friends of the Library honored Library Director Darla Bracken Wednesday on her 30-year anniversary with the Friona Library. Mrs. Bracken began her library career in September 1982 when the library was located in the Old Hotel near city park. Congratulations and thanks Darla for your service to our outstanding library.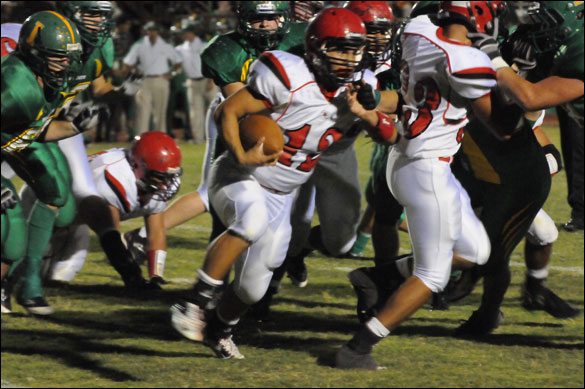 ron carr photo
Omar Ramos (12) picks up yardage against the Idalou Wildcats. The junior running back gained 79 yards on 18 carries.
Town Talk II
by Ron Carr
The weather prognosticators on Amarillo TV tell us there is cooler and rainy weather coming to the Panhandle later this week. Are we in for a wet Friday night football game? As usual we will have to wait and see. Hope we can report rainfall next week.
*****
Darrell Bartlett was the winner of the big screen TV raffle held by the Friona Band Boosters. Eddie McBride of Amarillo won the fire department 4-wheeler. He works for Allied Waste in Amarillo and on a trip through Friona he saw the 4-wheeler displayed at 4-Way Pump and stopped in to buy a ticket. Turned out to be his lucky day. (more...)
Tenna Montana is Week 3 winner
The third week of the Friona Star football contest produced some higher scores although there were a few tricky games to pick.
Tenna Montana, a 2012 FHS graduate and first year student at the University of the Incarnate Word in San Antonio, was the Week 3 winner. Tenna picked 14 of 15 games correct. Tenna and her family have entered the football contest for many years as family competition.
Close behind Tenna with 13 of 15 correct were Frank Dominguez and Miguel Porchas. Robert Kerby, Frank Gonzales, and Scott Brown managed to pick 12 of 15 game winners. (more...)
Chiefs work hard but lose to Idalou
A standing room crowd of homecoming fans packed Chieftain Field Friday night for the Chieftain vs. River Road homecoming game.
River Road put together 240 total offensive yards to hand the Chiefs their second loss 15-6. The two touchdowns for the Wildcats came in the first half. The Chiefs were held scoreless until Paco Martinez scored on a one-yard quarterback sneak late in the 4th quarter.
Martinez led rushers with 49 yards on 9 carries. Stephen Dominguez added 14 yards on 7 carries. Quarterback Mason Loflin completed 8 of 17 passes for 77 yards and had two interceptions.(more...)
Squaws are 2-0 in district
From Coach Bryan Masse
The Squaws JV and varsity opened district play with victories over the Olton Fillies. Since Olton does not have a C team the Squaws C team traveled to Plainview Christian and lost 2-0 to the Lady Eagles.
The JV did not really play well in the first game but still beat Olton 25-21, 25-14. They played better and found their rhythm in the second game and won the match 2-0.
In the varsity match the ladies got off to a slow start also and struggled with inconsistent play. They were able to still win 25-23. In game two the Squaws served and passed better to a 25-20 win. Olton did not quit and made the Squaws earn the third game 25-18. We started getting into sync the last game and had some really nice passes to our setters who were able to run some really nice, quick middle sets and our middles did a nice job of putting the ball down.
On Tuesday the JV and varsity continued their winning ways in Littlefield with both teams sweeping the Lady Cats. The JV got all around good play from everyone and pounded the Lady Cats JV 25-11, 25-10. The JV travels to Portales Friday for a tournament. (more...)