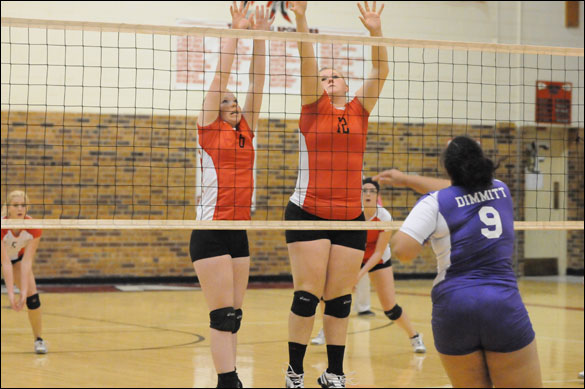 ron carr photo
Paige Upton (6) and Kailey Lucas (12) go high to intimidate a Bobbie during district action Saturday. The Squaws are on the way to the playoffs as they swept Dimmitt in three games. Playoff details TBA. We will post the opponent, place, and time on our Facebook page.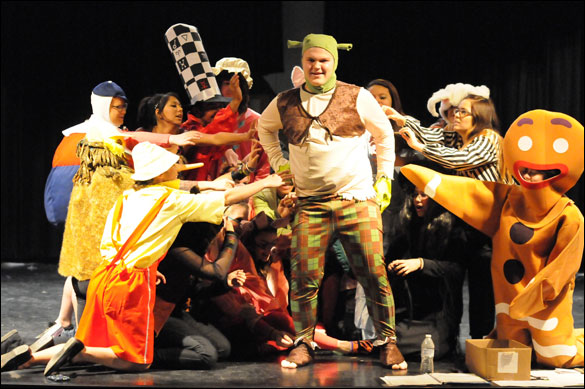 ron carr photo
Shrek, a/k/a Haden Smiley and a host of fairy tale characters will appear in the high school musical "Shrek the Musical" Saturday November 2 at 7 p.m. and Sunday November 3 at 2 p.m. The public performances are $5 for adults and $3 for students. Directors are Allison Johnston, Deirdre Long, and Joy Morton. The public is encouraged to attend and support the FHS thespians.
Town Talk II
Turn your clocks and other time-keeping devices back one hour Saturday night or at least by 2:00 a.m. Sunday morning when we return to standard time. It will be lighter earlier and darker earlier. Check your smoke alarm batteries and motion lights. We stay on standard time until March 2014. (more...)
The Friona city council regular monthly meeting is Monday November 4 at 6:30 p.m. in council chambers, 619 Main St. All council meetings are open to the public. (more...)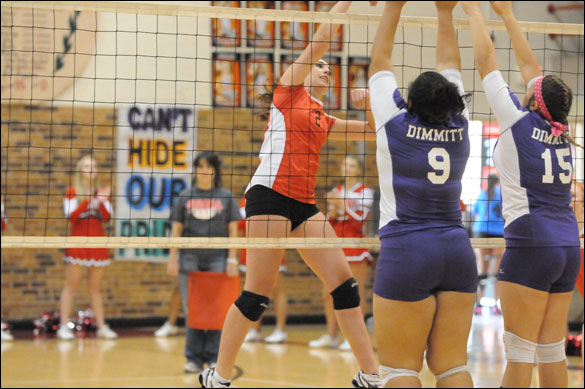 ron carr photo
Kendall Kimbrough (2) slams home a point over two Dimmitt defenders in Saturday district action. Kendall and her teammates qualified for the playoffs by sweeping the Bobbies in three games. See more Squaw volleyball action in photos.
It was a game that saw over 100 points scored and over 1,000 yards of total offense as the Chieftains kept the game close the first half. The score at the break was Bushland 27-Friona 21. But the Falcons scored 42 second half points to pull away from a weary Chieftain bunch that played with determination. (more...)