Obituaries
Elvera "Tootsie" White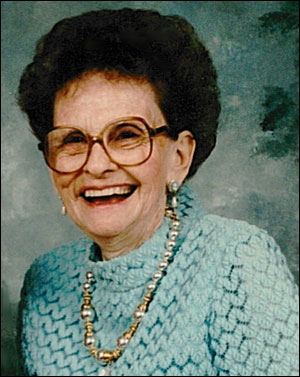 Elvera "Tootsie" White, 92, of Friona died Saturday October 26, 2013 in Friona. Funeral services were held at 2:00 p.m. Wednesday, October 30, 2013 at the First Baptist Church in Friona with Pastor Ted Taylor of the Hereford Church of the Nazarene and Rev. Brett Hoyle, First Baptist pastor, officiating. Burial followed in the Friona Cemetery by Blackwell-Mullins Funeral Home in Friona.
Mrs. White was born April 27, 1921 in Hale County, Texas to Ernest David and Elva Dee Akers Matlock. She married Henry Noah White June 7, 1942 in Edmonton, Texas. She was a member of the First Baptist Church in Friona, loved crocheting and quilting, making Christmas candy and collected salt and pepper shakers.
She is preceded in death by her parents, husband, six sisters, and one brother.
Survivors include two sons, Ronnie White of McGee, Arkansas and Donnie White of Friona; one brother, Thomas Matlock of Abilene; five grandchildren, six great grandchildren, and one great-great grandchild.
Memorials requested to Prairie Acres Nursing Home, 201 E. 15th St., Friona, Texas 79035. You may sign the online register at blackwellmullins.com.
Lee Renner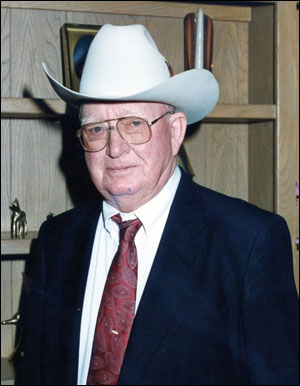 Lee Renner went home to be with his Lord on Saturday, October 26, 2013 at the V.A. Medical Center in Alexandria, Louisiana. He was born November 16, 1924 to the union of Rudolph Jacob Renner and Clara Baker Renner in Shattuck, Oklahoma. The family moved to Friona in 1926. He resided in Friona until 1964 when he moved to Wilcox, Arizona. In 1979 he moved to Winnsboro, Louisiana.
In his lifetime Lee was a Merchant Marine in the Pacific and was discharged in 2005. He also was a mechanic, farmer, and a businessman as a well driller. He owned and operated Renner Irrigation from 1979 until he retired at the age of 84.
He was preceded in death by his parents, one brother R.J. Renner, one nephew Ted Renner, and two nieces, Mikala Renner and Rhonda Renner.
He is survived by his wife Zena Renner of Winnsboro, Louisiana; two daughters, Tammy Bozeman and husband Eddie "Bubba" Jr. of Baskin, Louisiana, and Toni Poe and husband Steven of Youngsville, Louisiana; one son, Dick Renner of Vancouver Washington; two brothers, John Renner and wife Lavon of Friona, Cotton Renner and wife Kay of Winnsboro, Louisiana; two sisters, Lillie Mae Baxter and husband Billy of Friona, and Mary Joyce Barnett and husband Doyce of Friona; three grandchildren and numerous nieces and nephews.
Services were held at 10:00 a.m. Thursday, October 31, 2013 at Oak Grove Baptist Church in Winnsboro, Louisiana, with brother Mickey Gallup officiating. Burial followed in Oak Grove Baptist Church Cemetery. Arrangements by Gill First National Funeral Home.
Donations may be made to the Family Life Center fund of Ft. Road Oak Grove Baptist Church. Online condolences can be made at gillfirstnational.com.