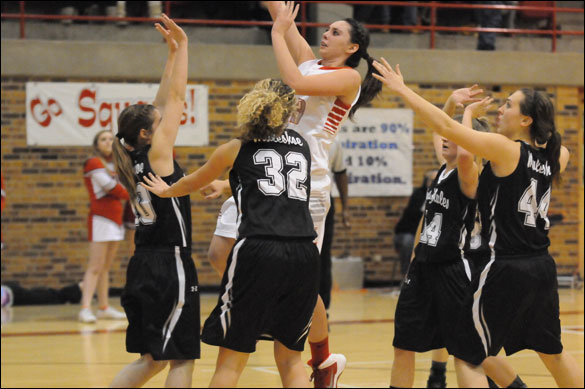 ron carr photo
Kendall Kimbrough (23) soars past a pack of Lady Mules in district action Tuesday night at Friona gym. The Squaws lost a close game 50-44 and are 0-2 in district. More game photos will be posted at frionaonline.com.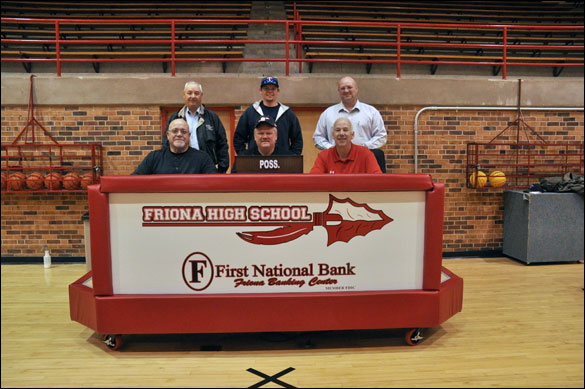 ron carr photo
The high school main gym has a new scorer's table thanks to First National Bank-Friona Banking Center. The bank sponsored the new table. It was built by Bobby Thompson and his son Collin. The elevated table was set up Tuesday morning. The old scorer's table will be used in the new activity center. Shown are, seated, l-r, FHS Athletic Director Mike Prokop, Bobby Thompson, Squaws basketball coach Darrell Ray; back, l-r, Ab Hendley, First National Bank, Collin Thompson, and Jeff Ray, First National Bank.
Town Talk II
Great weather for this time of year. This is our last Friona Star for 2013. We will not publish a Star next week. We are giving ourselves a rest before the New Year descends. Next Star will be the January 2, 2014 edition. We do appreciate all of the support we get from our advertisers and readers that make the Friona Star possible every week. Merry Christmas and Happy New Year to you all.
*****
Correction: On the Project Christmas Card list of donors is a typographical error. That section was printed early and we found the error after it was printed. The names are alphabetical and under the "S" it should read Dr. Dale and Donna Schueler. We apologize to Dale and Donna for the mistake. (more...)
Chamber announces Ho! Ho! winners
The Friona Chamber of Commerce's Ho! Ho! Home for the Holidays promotion is sponsored annually by local businesses. Customers are urged to shop local and register for drawings at participating merchants. A winner from each business receives $25 in Friona Bucks to spend at that business. All of the entries are then put together and an overall winner is drawn. The overall winner receives $100 in Friona Bucks that can be spent at any of the merchants.
On Monday December 16 the Chamber conducted the drawings at each business and the overall drawing. The winner of the $100 in Friona Bucks was Jerry Carlton. (more...)
No Friona Star next week, a rate increase January 1
The Friona Star will not publish a newspaper next week. We are taking Christmas week off. Our next issue will be January 2, 2014. Thanks to everyone for sending us your photos and news items. We look forward to your support in 2014.
The office will reopen Monday, December 30 and 31 and close on Wednesday January 1. Our office hours will remain 9 a.m. to 5 p.m. Monday to Wednesday. We are closed Thursday and Friday but we do check in for messages and emails.
Effective January 1, 2014, we will have a rate increase. The single copy price will increase from $.50 to $1.00 at Fast Stop, Bi-Wize, and Food Express in Bovina. Our subscription and advertising rates will be increased about 10%. This is our first rate increase in 10 years. Our printing, delivery, and overall costs have increased several times during that 10-year period. We appreciate your continued support. Merry Christmas and a Happy New Year.