Campbell book updated in 3rd printing
By Ron Carr
On December 2, 2005, a long awaited book signing was held at Ingram's Department Store. Over 400 people attended and purchased signed copies of Holly Campbell's book, Rainbows Through the Storm.
The December 2 date was significant. It would have been Sarah Campbell's 26th birthday. Most local residents are familiar with the tragedies that struck the Campbell family with the death of daughter Sarah and 15 months later the death of their son Dustin.
The book tells in simple and often frank language of the struggles that faced Holly and Danny Campbell and the Campbell family. It is a story of dealing with life and death and grief but most of all the book is a tribute to the memory of Sarah and Dustin. For Holly, writing the book was a form of therapy and recovery.
In the ensuing years Holly and Danny have been asked to speak to numerous high schools and churches. They developed a power point presentation that brings a powerful message of coping with grief and hope. I attended a presentation at Friona High School and can attest it was powerful and moving.
Recently Holly undertook to revise and update the book. She added some text and photos of events that have occurred over the years. For example, Dustin's Class of 2001 planted a tree in his memory at the high school during their 10-year reunion in 2011. A photo is included in the revised edition.
Clint Mears of Intheden Graphics did the layout and printing of the original book and the reprinting. A 2nd reprint was done in November 2006. The updated version was delivered this week. This shipment makes a total of 6,000 books printed so far.
The book has been ordered by people across the country that share similar tragic events. It has helped many people cope with their grief. The little book is available on Amazon, at Ingram's, the Friona Star office, Ivy Cottage, and Property Associates. It costs $10.
The new shipment arrived this week, on December 2, 2013, what would have been Sarah's 34th birthday. The coincidence was not lost on Holly. She believes that Sarah was smiling down and sending a sign. Holly Campbell is perhaps the strongest woman I've ever known. She has endured and grown and inspired others. I'm proud to call her my friend.
She has indeed found Rainbows Through the Storm.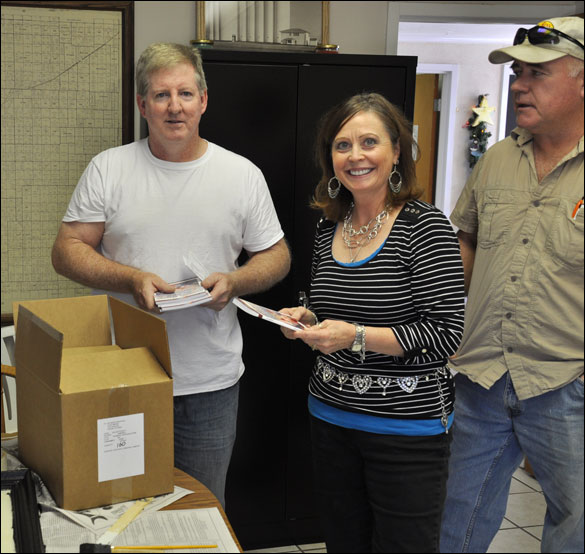 ron carr photo
Clint Mears of Intheden Graphics, left, and Holly and Danny Campbell unpack a box of Holly's book, Rainbows Through the Storm, as the 3rd and updated printing arrived Monday.