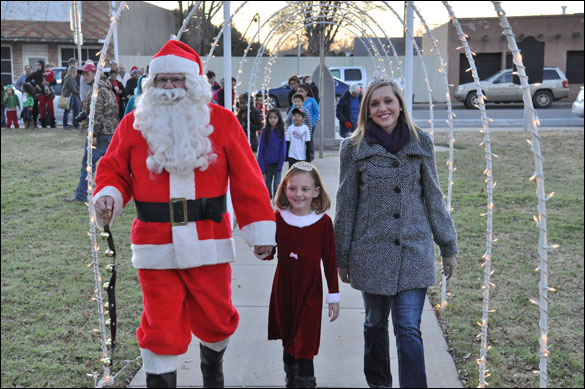 dana jameson photo
Leading the way to the Depot in the city park are Santa Claus, Little Miss Friona Madison Tyler, and Miss Friona Mykelti Rhodes. A long line of children greeted Santa during Monday's Christmas in the Park celebration. Madison and Mykelti were on hand to assist Santa and hand out candy canes to the kids.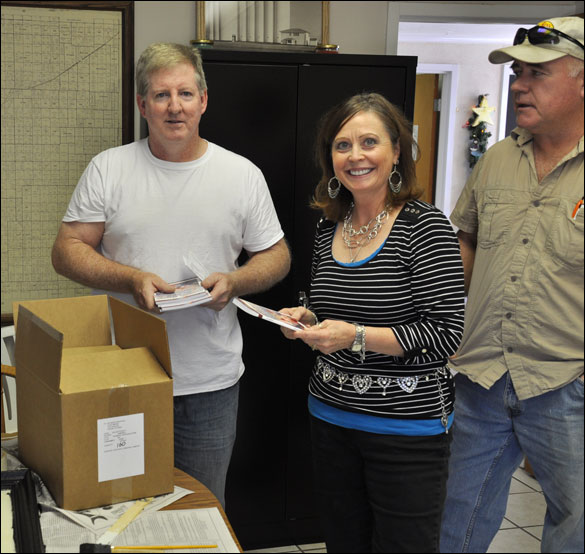 ron carr photo
Clint Mears of Intheden Graphics, left, and Holly and Danny Campbell unpack a box of Holly's book, Rainbows Through the Storm, as the 3rd and updated printing arrived Monday.
Town Talk II
Well I made it to Denton Thanksgiving Day in time to have turkey and dressing at Cracker Barrel with my baby girl Megan. They told us it would be an hour wait but called our name in ten minutes. Pretty much ate my way through the next couple of days at places named Loco Café, Seven Mile Café, and the Greenhouse and visiting with kids and grandkids. Enjoyed the trip but always glad to be back home. (more...)
Beginning December 10th, Friona Rural Health Clinic will be offering a women's health clinic every Tuesday afternoon from 2:00 – 5:00. To schedule an appointment with Carman Putman, MS, FNP-C for your annual health exam and other female health issues, call 806-250-2781.
Empty Stocking Fund needs help
The Friona Empty Stocking Fund helps needy children at Christmas. Money donated to the fund is used to buy shoes, socks, and other clothing for needy children designated by teachers. The USDA inspectors at the Cargill plant provide toys and food to be included.
Local coordinator Peggy Monroe says funds have been slow to come in this year. She and her volunteers are getting ready to travel to Amarillo for the first round of buying the children's gifts. Donations are much needed and can be made at Friona Interbank. Please help. All donations are appreciated.
Pheasant outlook abysmal for 2013
A recent survey by Texas Parks and Wildlife Department biologists confirms what farmers working fields and anyone who travels country roads in the Hereford area and across the Panhandle knew already—there are darned few pheasants out there in 2013 and hunting prospects are paltry for the season opener on December 7.
"After drought conditions the last several years, there was rain over much of the pheasant range this year, but there was little or no nesting success due to no nesting cover growing last year. Rainfall did produce new nesting cover, though. If we have average moisture the rest of this year and next year, and that nesting cover is maintained, we should see a rebound in pheasant numbers," says Todd Montandon, TPWD wildlife biologist from Canyon. (more...)
Campbell book updated in 3rd printing
On December 2, 2005, a long awaited book signing was held at Ingram's Department Store. Over 400 people attended and purchased signed copies of Holly Campbell's book, Rainbows Through the Storm. (more...)