Chieftain/Squaws basketball wrapup
The Chiefs lost to Dimmitt last week at Friona gym but rebounded to beat Littlefield there and the Tulia Hornets here. The JV and varsity Chiefs host Abernathy here Friday night then end the season at Muleshoe next Tuesday. Friday night game times are JV at 5 p.m. and varsity at 6:30 p.m.
Chiefs 59 Dimmitt 72; It was close at the half but the Bobcats outscored the Chiefs 42-33 in the second half to claim the win. Scoring: C. Stowers 17, DeWit 10, Woods 10, B. Stowers 8, Cigarroa 7, Osborn 3, Douglas 2, Haile 2.
Chiefs 64 Littlefield 59. The Chiefs led 38-34 at the half and played even with the Wildcats in the second half for the narrow 64-59 victory. Scoring: B. Stowers 22, Cigarroa 15, C. Stowers 14, DeWit 10, Haile 2, Woods 2.
Chiefs 74 Tulia 63. The Chiefs scored 43 points in the first half and led by 19 at the break. The Hornets came back in the second half with 39 points but the Chiefs held on for the win. Scoring: C. Stowers 22, DeWit 19, Cigarroa 11, Loflin 7, Osborn 6, Woods 5.
Squaws 34 Littlefield 35 The Squaws played even with the district leading Lady Cats but lost by one point. Scoring: Dakotah Hicks 15, Maddie Murphree 5, Brianna Miller 7, Kendall Kimbrough 4, Marisol Posada 3.
Squaws 46 Tulia 59: The Squaws closed out their season at home Tuesday night with a loss to the Tulia Lady Hornets. No individual stats were available at our press time.
The Tulia games will be shown Saturday morning at 10 a.m. on WT Services channel 76. On Saturday February 16 the games with Abernathy will be shown, same time same station.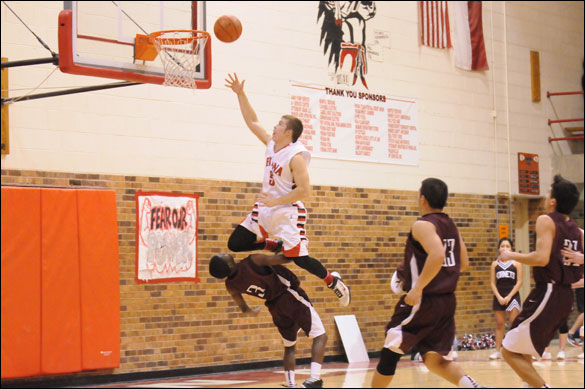 ron carr photo
Sawyer Osborn (5) launches over a Tulia Hornet to score Tuesday night at Friona Gym. Chiefs beat Tulia 74-63. Video of the Tulia games will be shown Saturday, February 9 at 10 a.m. on WT Services channel 76.