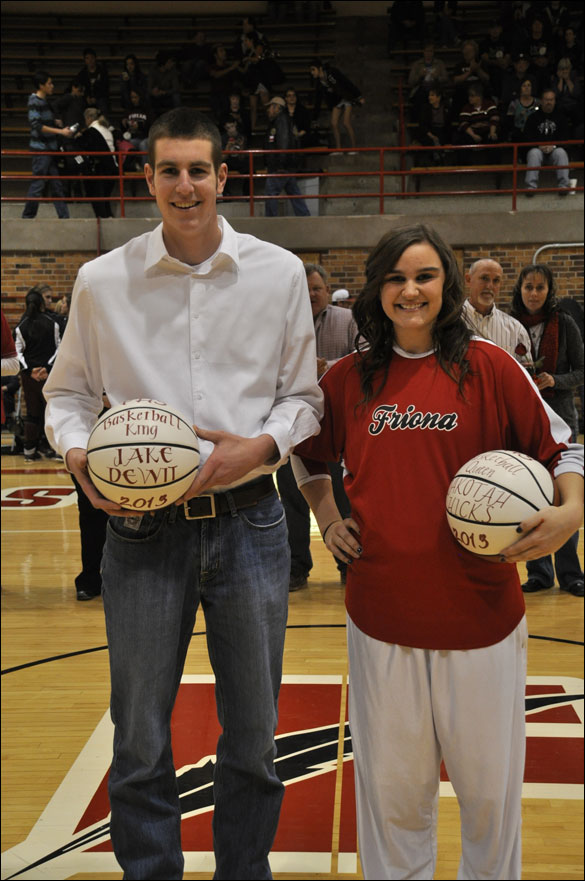 ron carr photo
The 2013 Friona High School Basketball King and Queen are Jake DeWit and Dakotah Hicks. The two seniors were announced Tuesday night at Friona gym before the games with Tulia. Congratulations Jake and Dakotah.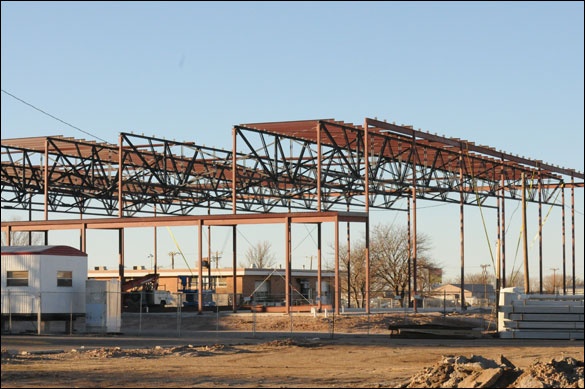 ron carr photo
Work continues on the high school activity center. The trusses were lifted into place last week.
by Ron Carr
Do you have any new or gently used baby items to donate? The Parmer County Healthy Baby Coalition will accept them in conjunction with their free pre-natal classes. They are registering expectant mothers Saturday February 9 in the hospital conference room from 9 – 11 a.m. and will accept your items at that time. More info about the classes on the front page.
*****
Local elections, if necessary, will be held May 11, 2013. That's a Saturday. Voting will be at the city council chambers, 619 Main St. Filing for a seat on the school board or city council is open now until March 1st. Applications at city hall or the school admin office. Three council seats, the Mayor's chair, and two school board seats will be up for election.
*****
Anniversaries: Norman and Gay Taylor celebrating 55 years. Misty and Kip Frye been married 17 years this week. Mike and Bonnie Pope celebrated 36 years this week. On February 11 Vernell and James Cunningham are celebrating their 70th anniversary by shelling 500 pounds of pecans with a new pecan sheller they ordered. Vernell is 87 and James is 92. Happy anniversary to all and God bless. (more...)
Chieftain/Squaws basketball wrapup
The Chiefs lost to Dimmitt last week at Friona gym but rebounded to beat Littlefield there and the Tulia Hornets here. The JV and varsity Chiefs host Abernathy here Friday night then end the season at Muleshoe next Tuesday. Friday night game times are JV at 5 p.m. and varsity at 6:30 p.m.
Chiefs 59 Dimmitt 72; It was close at the half but the Bobcats outscored the Chiefs 42-33 in the second half to claim the win. Scoring: C. Stowers 17, DeWit 10, Woods 10, B. Stowers 8, Cigarroa 7, Osborn 3, Douglas 2, Haile 2.
Chiefs 64 Littlefield 59. The Chiefs led 38-34 at the half and played even with the Wildcats in the second half for the narrow 64-59 victory. Scoring: B. Stowers 22, Cigarroa 15, C. Stowers 14, DeWit 10, Haile 2, Woods 2. (more...)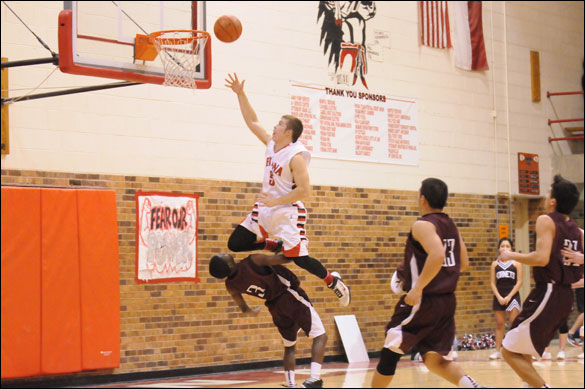 ron carr photo
Sawyer Osborn (5) launches over a Tulia Hornet to score Tuesday night at Friona Gym. Chiefs beat Tulia 74-63. Video of the Tulia games will be shown Saturday, February 9 at 10 a.m. on WT Services channel 76.