Chief/Squaw track meet results
The Friona Chieftain Relays were held Friday March 1 at Chieftain Field. Nine schools were entered. Here are the results for our Chieftain/Squaw participants.
Varsity Girls placed 2nd with 105 points.
400m Dash: 1st Kalley Preston, 1:03.96; 800m Run 2nd Kalley Preston 2:31.71; 1600m Run 5th Sajal Patel 6:52.17, 6th Erika Maldonado 6:56.17; 3200m Run 4th Marisol Posada 14:28.52, 5th Erika Maldonado 14:28.99.
4x100m Relay 2nd 54.86 Marisol Posada, Christina Green, Brianna Miller, Dakotah Hicks; 4x200m Relay 3rd 2:00.51 Christina Green, Arianna Moreno, Brianna Miller, Marisol Posada; 4x400m Relay 2nd Friona 'A' 4:41.77 Kalley Preston, Christina Green, Brianna Miller, Arianna Moreno; 6th Friona 'B' 5:02.37 Kayla Alexander, Aubrey Williams, Alexis Alvarado, Courtney Bunker.
High jump 4th Kendall Kimbrough 4'6"; long jump 2nd Arianna Moreno 13'8"; triple jump 3rd Brianna Miller 29'5.75"; shot put 3rd Nohely Juarez 29'6"; discus 2nd Nohely Juarez 85'4"
Junior Varsity Boys placed 2nd with 165.50 points.
100m dash 2nd Michael Garcia 12.14, 4th Chris Alvarez 12.33; 200m Dash 1st Cesar Huerta 24.92, 3rd Jose Rocha 25.36, 5th Michael Garcia 26.05; 400m Dash 1st Adrian Munoz 56.40, 3rd Cabrelas Hernandez 1:00.33; 800m Run 5th Juan Silva 2:36.25; 1600m Run 4th Isaac Summerlin 6:04.14, 5th Juan Silva 6:04.83; 3200m Run 4th Isaac Summerlin 13:00.05; 300m Hurdles 2nd Israel Espinoza 49.68.
4x100m Relay 1st 49.58 Jose rocha, Adrian Munoz, Chris Alvarez, Israel Espinoza; 4x200m Relay 1st 1:43.74 Michael Garcia, Cesar Huerta, Gabriel Chico, Chris Alvarez; 4x400m Relay 1st 3:55.83 Jose Rocha, Cabrelas Hernandez, Israel Espinoza, Adrian Munoz.
High jump 2nd Adrian Munoz 5'; long jump 1st Adrian Munoz 16'4", 2nd Israel Espinoza 16'1", 6th Adan Ramirez 14'; triple jump 1st Israel Espinoza 34'10", 3rd Chris Alvarez 31'3".
Varsity Boys placed 1st with 129 points
100m dash 4th Justin Rocha 11.72, 5th Omar Ramos 11.74; 200m Dash 1st Eddy Garcia 23.27, 3rd Jose Zamudio 24.02, 4th Jose Rivera 24.11; 400m Dash 5th Aran Ramirez 55.021; 3200m Run 6th Jose Flores 11:43.27; 110m hurdles 3rd Sawyer Osborn 16.30, 4th Skyler Harris 17.74; 300m hurdles 2nd Sawyer Osborn 41.80, 3rd Skyler Harris 44.08.
4x100m Relay 1st 45.55 Omar Ramos, Aran Ramirez, Jose Rivera, Eddy Garcia; 4x200m Relay 2nd 1:37.02 Abel Palacios, Justin Rocha, Omar Ramos, Eddy Garcia; 4x400m Relay 3rd 3:37.20 Abel Palacios, Aran Ramirez, Sawyer Osborn, Jose Ramudio.
High jump 3rd Joselito Cigarroa 5'8"; triple jump 2nd Sawyer Osborn 39'3"; shot put 2nd Abayomi Salinas 42'9";3rd Jacob Osborn 41'1.5".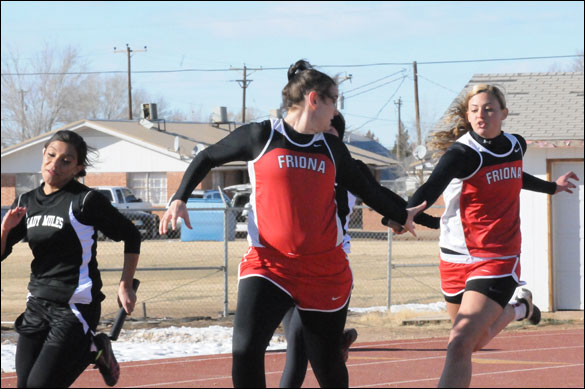 ron carr photo
Brianna Miller hands off to Dakotah Hicks in the varsity girls 4x100 relay at the Friona track Meet last Friday. More track photos in our photo section.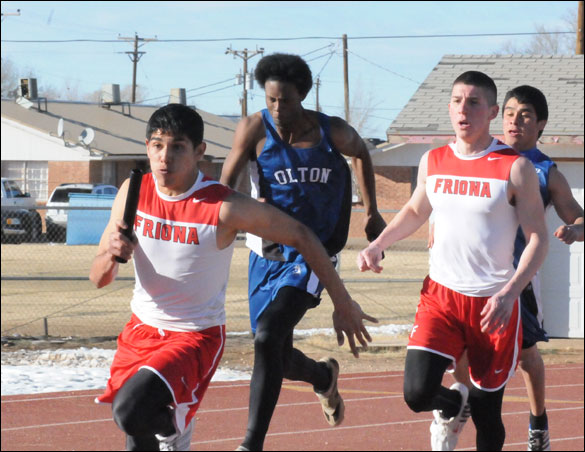 ron carr photo
Jose Rivera hands off the baton to Eddy Garcia for the final leg of the 4x100 relay at Friday's track meet. The Chiefs won 1st in the relay with a 45.55 time. More photos from the track meet in our photo section.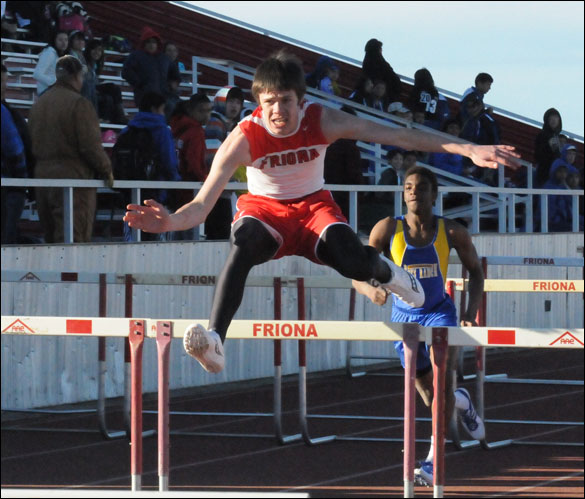 ron carr photo
Skyler Harris in the 100m hurdles at the Chieftain Relays track meet Friday March 1.