Council approves purchase of ten lots for apartment construction
The Friona city council met in regular session Monday April 8 at 6:30 p.m. in council chambers, 619 Main St. Councilman and mayor pro-tem Jim Atwell presided. Councilman Greg Lewellen was absent.
The meeting was called to order at 6:30 p.m. with the pledge of allegiance and invocation. The first business item was a public hearing for comments on the proposed ordinance making Main St., from 4th to 11th streets a business district and restricting any usage for trailer parks, courts, and similar usage. There were no public comments.
Due to the election date of May 11 and the necessity of ballot canvassing, the May meeting was moved from May 13 to May 20. All council meetings are open to the public.
Council reviewed the city's investment policy and after discussion, approved First National Bank as the city depository bank. Based on bids received from Friona State Bank and First National Bank, the council was unanimous in awarding the agreement to First National.
Bids from Whiteface Ford and Stevens 5-Star were considered for a new city pickup. Whiteface, with a bid of $21,404 was awarded the bid. Stevens' two bids were $23,018 and $24,221. Freeman Company was awarded the seal coat bid for city streets.
A recommendation from the planning and zoning board was discussed regarding the Main St. business zone ordinance. The council accepted the P&Z recommendation and approved the ordinance. In other action, Eldon Reeb was appointed to the Friona Economic Development Corporation (FEDC) board replacing J.B. Douglas who resigned and moved to Amarillo.
Mr. Douglas also resigned as Friona mayor and his resignation was accepted by council vote. Mayor pro-tem Atwell said, "Mayor Douglas was a strong asset to the community and we appreciate his service and wish him well."
In a major decision, the council approved the FEDC's purchase of 10 lots on the city block bounded by 6th and 7th and Ashland and Woodland. The lots were purchased for $3,500 per lot from Connie Whaley Slagle and Doris Whaley Sutton. Plans call for a Clovis developer to construct duplex/apartments on the lots to assuage the shortage of housing in the city. Plans are still tentative but one report said up to 24 three bedroom, two bath units could be built on the property.
Police Chief Frank Mooney gave his activity report. He said the city is currently one officer short but interviews are scheduled next week. On a govdeals.com website, Chief Mooney said they sold four vehicles and still have a 2007 Dodge Charger to sell. He is meeting Thursday (4/11) with the Panhandle Regional Planning Commission (PRPC) about a grant to fund a school resource officer.
Warrant/fine collections are up this year, he said, attributing the increase to the city's impound policy. Citizens caught driving without a driver license or insurance have their vehicles impounded and pay a fine and storage fee. Warrant collections in 2012 were $21,546. So far in 2013 collections are $37,529.
Future council members Alan Monroe and Bruce Fleming were present as observers. They will be sworn in at the May 20 meeting. Also present was mayoral candidate Rick White.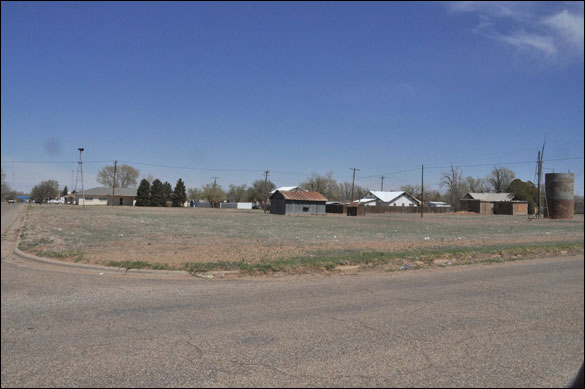 ron carr photos
This property bounded by 6th and 7th between Ashland and Woodland streets has been approved by the city council for purchase by the Friona Economic Development Corporation (FEDC). The 10 lots were purchased for $3,500 per lot. Plans are underway to develop the lots for apartments. The city will tear down the old structures shown here and prepare the property for development. Exact plans have not been finalized but reports are up to 24 three bedroom two story units could be built.