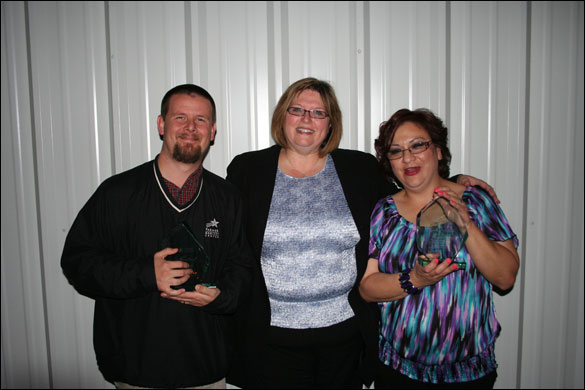 courtesy photo
Parmer Medical Center Manager of the Year Devin Carpenter, left, and Employee of the Year Delia Jackson, right, are congratulated by PMC Administrator Gayla Quillin after receiving their awards at the hospital appreciation dinner Friday evening April 5.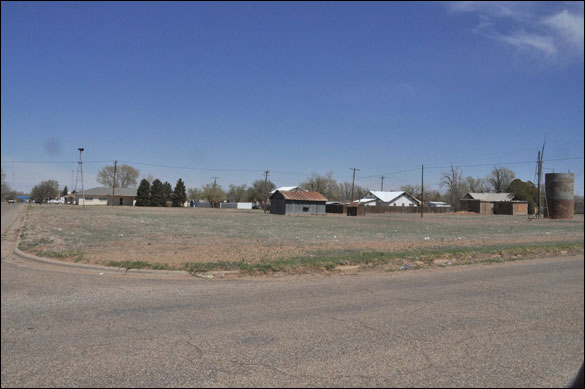 ron carr photos
This property bounded by 6th and 7th between Ashland and Woodland streets has been approved by the city council for purchase by the Friona Economic Development Corporation (FEDC). The 10 lots were purchased for $3,500 per lot. Plans are underway to develop the lots for apartments. The city will tear down the old structures shown here and prepare the property for development. Exact plans have not been finalized but reports are up to 24 three bedroom two story units could be built.
by Ron Carr
Looking like spring is here to stay. A couple of cooler days this week but let's hope the freezing is behind us. (May have to eat those words later.) It was hot Saturday at the ball park for the Chiefs vs. Boys Ranch baseball game. Then Tuesday it was colder and a few little rain showers. Now if we can get some real spring rain.
*****
Mark your calendar for Monday April 22 from 9 a.m. to 5 p.m. at the Friona library. A gentleman named Lee Carter from Amarillo will be here to teach you how to check out books on your e-reader gadget, iPad, Nook, Kindle, and so forth. April is National Library Month and the Library Friends have lots of library stuff planned, including an e-reader giveaway each Friday in April. Go by and sign-up for the drawings.
*****
Congratulations to Bovina high school powerlifter Gabriel Hancock. He won the state championship in the 114 pound class with a total lift of 905 pounds, his highest total of the season and a personal best. (more...)
Parmer Medical Center had its annual Employee Appreciation Dinner at the Country Rose on Friday, April 5, 2013. Service awards were presented and the 2012 Excellence Award winners were announced.
In recognition of outstanding employees for 2012, the hospital continued to use their service excellence theme. The first Excellence Award for Employee of the Year went to Delia Jackson, Nursing Assistant. Delia was recognized for her service to patients and willingness to help co-workers within the facility. (more...)
Council approves purchase of ten lots for apartment construction
The Friona city council met in regular session Monday April 8 at 6:30 p.m. in council chambers, 619 Main St. Councilman and mayor pro-tem Jim Atwell presided. Councilman Greg Lewellen was absent.
The meeting was called to order at 6:30 p.m. with the pledge of allegiance and invocation. The first business item was a public hearing for comments on the proposed ordinance making Main St., from 4th to 11th streets a business district and restricting any usage for trailer parks, courts, and similar usage. There were no public comments. (more...)