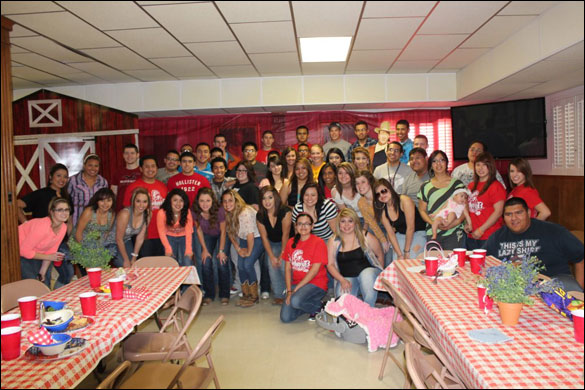 courtesy photo
The Friona High School Class of 2013 gathered at the Friona Methodist Church for a senior banquet Monday April 22. There will be a flurry of activities in May leading up to the graduation Friday May 31 followed by the all-night drug free party. Congratulations Class of 2013. The school activity calendar for May is included in this Star.
ron carr photo
West Texas A&M football coach Don Carthel, left, quarterback Dustin Vaughan and receiver Jacob Hancock were guests of the Friona Noon Lions Thursday April 18 at the Friona State Bank community room. The Noon Lions served hamburgers and invited the community and WT alumni to attend.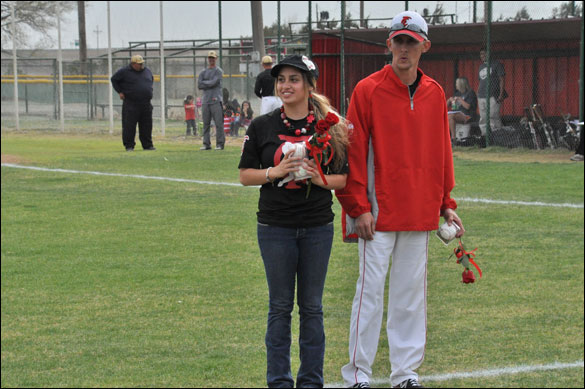 ron carr photo
Chieftain scorekeeper and manager, Joanna Hernandez and Coach Chris Ruckman on senior day at Chieftain Field. The Chiefs will play Tulia at 12:30 p.m. Friday May 3 at Canyon High School in the Bi-District Playoff.
by Ron Carr
Holy moly! The WT Services local cable channel Tuesday morning reported the wind chill was -7 degrees as I left for the office. That was after a high temp of 80+ on Monday. Winds blew in Monday night gusting to 50 mph. Near Vega in Oldham County they set up a tent for the Spinning Spur Wind Farm groundbreaking on Wednesday but the wind blew it down, proving, I suppose, it was a good spot for a wind farm.
*****
Early voting for the mayor and school board election starts Monday April 29 to Tuesday May 7. Vote for mayor at city hall and for school board at the administration office. Election day is Saturday May 11 at 619 Main St.
*****
At junior high band competition last weekend, Hadley White earned a 1 for his trumpet solo and Lydia Alexander got a 1 for her saxophone. The band earned ones for concert and sight reading.
*****
Congratulations to Rondee and Tonda Clark on the occasion of their 32nd anniversary celebrated this week. (more...)
Public forum will be available on local cable
The public forum held Thursday April 18 for mayor and school board candidates was videotaped and will be broadcast on WT Services channel 76 on two Sundays: April 28 and May 5 starting at 2:30 p.m. Election will be held Saturday May 11 at 619 Main St. Early voting is April 29 to May 7 at city hall and the school administration building during normal business hours. Bring your voter registration card. (more...)
Shattered Dreams program at FHS next week
By Shana Fleming
Friona High School and Parmer County Texas AgriLife Extension Service will be hosting the Shattered Dreams program May 2nd and 3rd in Friona. Shattered Dreams is an educational program that can help save the lives of young people and others. Planned by community and school personnel, the program shows high school students how their dreams and those of their families and others can be shattered as a result of distracted driving.
The comprehensive two-day program involves several activities that educate youth by dramatizing the problems associated with distracted driving. On the first day, students representing those who die in alcohol related accidents will leave the classroom to become members of the Living Dead. In addition, other students will participate in a staged auto crash behind the High School on 9th street. The crash will take place at 10:00 and be treated as if it was a real accident.
Emergency personnel, including Friona Fire Department, Friona EMS, Friona Police Department, Parmer County Sheriff's office, and Texas Department of Highway Patrol, will arrive at the school. Aero Care out of Clovis will also set a helicopter down on the practice football field. Students will be treated for "mock" injuries. Members will be taken in the ambulance and helicopter to Parmer County Medical Center. Others will be cut out of the wrecked cars with the Jaws of Life by the Friona Fire Department and one will be taken away from the scene in a hearse provided by Blackwell Funeral Home.
After the Mock Crash, participants will be taken to Lubbock for a field trip. During the field trip students will tour the University Medical Center Trauma Unit and Burn Unit and the Medical Examiner's Office. The students will then return to Friona where they will attend an overnight leadership retreat at First Baptist Church. (more...)