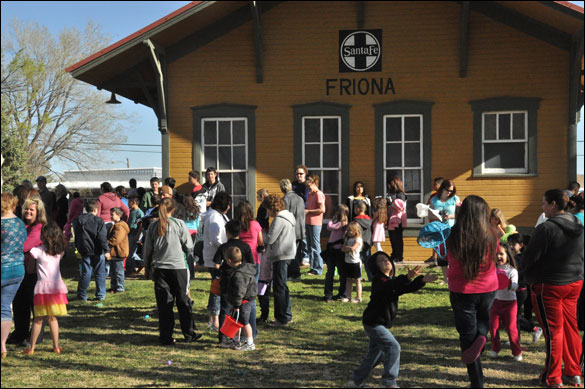 ron carr photo
A nice sunny spring day welcomed families to the city park Saturday for the annual Calvary Baptist Church Easter egg hunt. The weather turned back to winter this week with temps below freezing and snow and freezing drizzle causing several accidents in Amarillo and the northern Panhandle Tuesday and Wednesday. Temperature for the weekend is forecast to be near 80 degrees.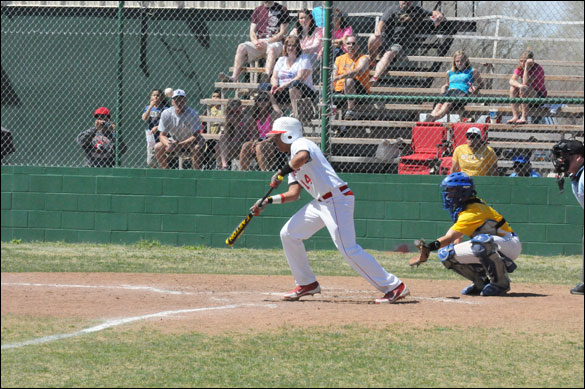 ron carr photos
Nathaniel Gonzalez, above, lays down a squeeze bunt to score a run. Below, Antonio Adame rounds third base to complete an inside-the-park home run. The Chiefs beat Boys Ranch 12-2 in six innings. More photos from the Bushland and Boys Ranch baseball games available in our photo section.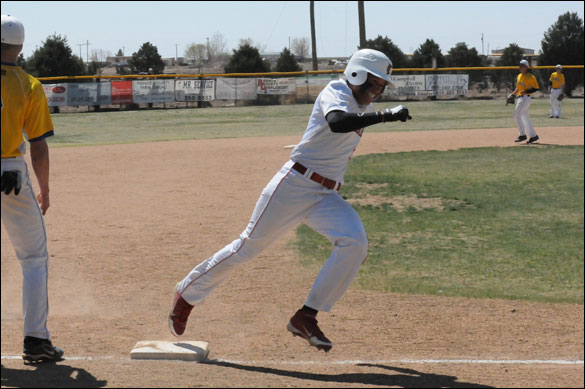 by Ron Carr
Looking like spring is here to stay. A couple of cooler days this week but let's hope the freezing is behind us. (May have to eat those words later.) It was hot Saturday at the ball park for the Chiefs vs. Boys Ranch baseball game. Then Tuesday it was colder and a few little rain showers. Now if we can get some real spring rain.
*****
Mark your calendar for Monday April 22 from 9 a.m. to 5 p.m. at the Friona library. A gentleman named Lee Carter from Amarillo will be here to teach you how to check out books on your e-reader gadget, iPad, Nook, Kindle, and so forth. April is National Library Month and the Library Friends have lots of library stuff planned, including an e-reader giveaway each Friday in April. Go by and sign-up for the drawings.
*****
Congratulations to Bovina high school powerlifter Gabriel Hancock. He won the state championship in the 114 pound class with a total lift of 905 pounds, his highest total of the season and a personal best. (more...)
Sunday, April 14 11:00 a.m. to 1:30 p.m.
JUNIOR HIGH CAFETERIA
Advance tickets $12/$10 (child 10 & under)
At the door $13/$11
For tickets see any senior student or
Call Cindy Miller 250-2745 or
Alma Rivera 806-441-6401
Take-outs will be available
Deliveries will be available for shut-ins
For delivery call Rhonda Murphree 250-2512
Proceeds for the alcohol/drug free all-night graduation party (more...)
City council will consider zoning amendment and property purchase
The Friona city council will meet in regular session Monday, April 8, 2013 at 6:30 p.m. at 619 Main St. All council meetings are open to the public.
The first business item on the agenda will be a public hearing to receive comments on a zoning amendment prohibiting the construction of "a tourist or trailer camp, court, or lodge" on Main St, between 4th and 11th streets. The Planning and Zoning Commission met March 22 and will recommend to the council that this amendment be approved.
Other items on the agenda are the annual review of the city's investment policy; the awarding of the bid for the depository of city funds beginning May 1, 2013 through April 30, 2016; award a bid for a new utility pickup; and awarding the seal coat bid.
The council will also review accounts payable for March, and financial statements for March and the second quarter financials. Police Chief Frank Mooney will give a report, a new member of the Friona Economic Development Corporation will be appointed to replace J.B. Douglas, and the resignation of Mayor Douglas will be accepted. (more...)