D.C. Herring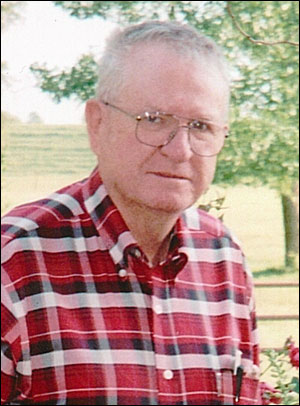 D. C. Herring, 87, died May 1, 2013 in Friona. Memorial services were held Saturday, May 4, 2013, at the First Baptist Church in Friona with family and Rev. Brett Hoyle, pastor, officiating. Arrangements by Blackwell-Mullins Funeral Home of Friona.
D. C. Herring was born to O. H. and Altye Herring in Amherst, Texas. He spent his boyhood in Amherst on the family farm developing a love of the land, hunting and fishing that stayed with him his entire life. His stewardship and desire to make the world a better place was evident in everything he did.
He met his true love, Margie Roberts, and they married in April 1944. They just celebrated 69 years of a wonderful marriage and life together. Their example of love and devotion is an inspiration to all who know them.
D. C. was accepted in the Army Air force in 1943 after being rejected several times because of not meeting the weight requirement. With his normal determination he solved this problem by eating bananas and drinking milk until he weighed enough to be accepted. He served until 1945 when the war ended and he and Margie began what would be a life of hard work, great adventure, and many accomplishments. Three children were born to them: Glen, Carolyn, and Tim.
He served in every capacity he could in his community. He was a long time member of the First Baptist Church of Friona. He was a 12-year member and president of the Friona School Board, Chamber of Commerce member and director, member of the Friona Lions Club, American Legion, Friends of the Friona Library, Parmer County Cemetery Association, and served many years on the Parmer County Equalization Board.
D. C. had a head for business and owned and operated Herring Implement Company for over 40 years. He was an original owner and impetus in Bovina Feeders. As much as he loved selling farm machinery his heart was never far from his land and cattle. His greatest legacy for his family and friends was the gift of example of hard work, integrity, generosity, great wit and service. His love of Margie, his children, his grandchildren and great-grandchildren, along with principles and the way he lived his life are what made D. C. the man he was….a gift to us all.
He was preceded in death by his parents, O. H. and Altye Herring; sister Avis White and her husband Raymond; brother-in-laws Keith Oliver and Buster Elliott; sister-in-law Evelyn Elliott Goyen; and granddaughter Jill Herring Cotoia.
Survivors include: his wife Margie Herring; one daughter, Carolyn Carson and husband David Lee; two sons, Glen Herring and wife Mickie, and Tim Herring and wife Judy; one brother, Dean Herring and wife Mary; nine grandchildren, Richie and wife Blair, Kriste Haile and husband Neal, Jamie Herring, Jennifer Ogle and husband Stephen, Wade Carson and wife Kim, Jay Carson and wife Jenny, Terry Malone and husband Dean, Kellie Herring Neeley, Hayley Herring Gibson, Scott Cotoia; and 28 great-grandchildren.
The family suggests memorials to the Friona Library, 109 W. 7th, Friona, Tx 79035 or the Friona Cemetery Association, PO Box 823, Friona, Tx 79035.
You may sign the online register at www.blackwellmullins.com.