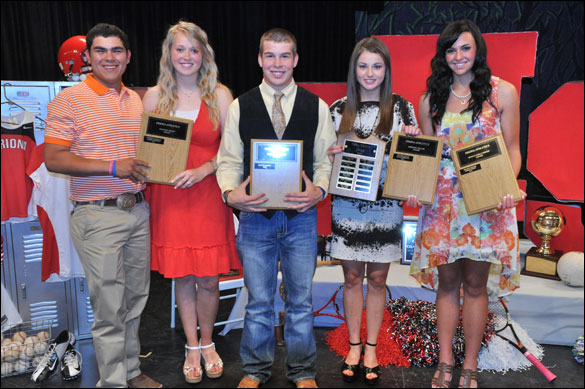 ron carr photo
The top athletic awards at Tuesday's All-Sports banquet were presented to, l-r, Stephen Albarado & Maddie Murphree, Fighting Heart Award; Sawyer Osborn, Fighting Chieftain Award; and Kalley Preston & Brianna Miller, Fighting Squaw Award. More all-sports award photos in next week's Friona Star.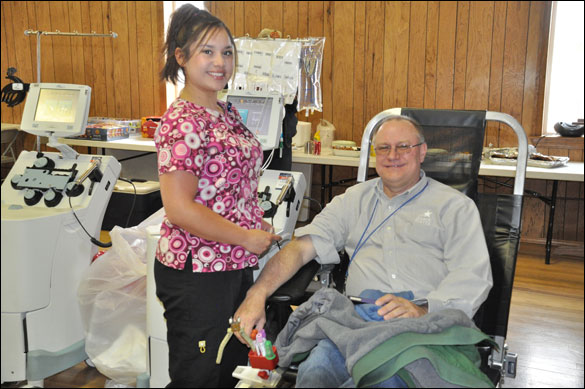 ron carr photo
The May 2 Friona blood drive had 59 donations in spite of the cold, windy weather. Mike Prather was an early donor. Also shown is Coffee Memorial Blood Center technician Micaela Lopez. The Friona Noon Lions furnished corn dogs and fries for all donors. Hunan II Restaurant donated lunch for the Coffee Blood Center workers. Thanks to all donors for making the Friona blood drive another success.
by Ron Carr
Weather guy John Gurley reported his official rain gauge showed .29" of rain overnight Monday. It was a welcome surprise while it lasted, making some puddles in the parking lot.
*****
Early voting results: early voting ended Tuesday May 7. There were 211 early votes for mayor and 354 early votes for school board. The election is Saturday May 11 from 7 a.m. to 7 p.m. at 619 Main St. Vote for both mayor and school board at this location. (more...)
If you have family or friends buried in the Friona Cemetery come join the cemetery board on Thursday May 16 at 5 p.m. for the annual clean-up day. All volunteers will be appreciated. (more...)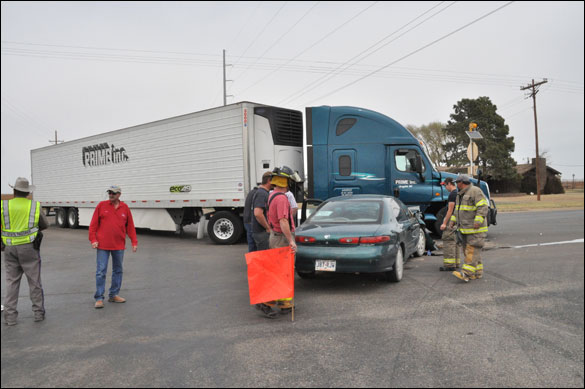 ron carr photo
Friona volunteer firefighters and EMS responded to an accident Sunday May 5 at the Hub intersection. The car collided with a semi- that was turning east off of Hwy 214 onto Hwy 86, sending two young children to Parmer Medical Center where they were then transported to Amarillo with serious injuries.