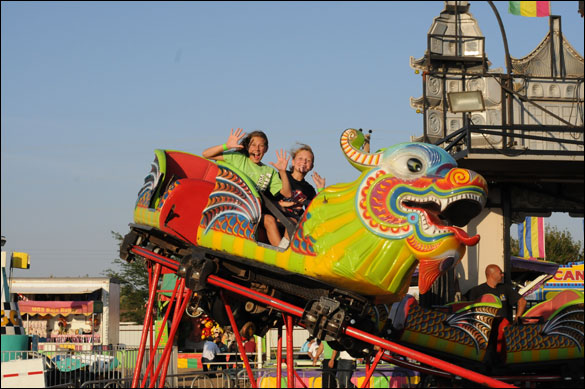 ron carr photo
It was a busy 4th of July weekend in Friona with fireworks, a carnival, and Kid Fish Day. Having fun at the carnival on this Dragon ride were Maddie Sharrock and Carly Drake. Friona firemen put on the fireworks show Thursday night and some kids caught some catfish at Reeve lake Saturday morning. More photos from all events, including the Bovina parade throughout this week's Star.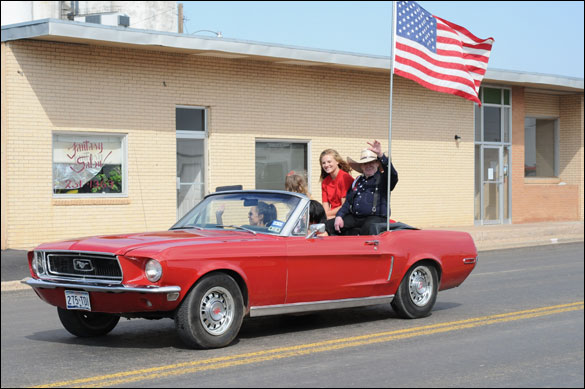 ron carr photo
Long time parade marshal C.E. Trimble rode a T-Bird instead of his horse this year to lead Bovina's 4th of July parade. More photos from the Bovina parade are posted on the Friona Star website, frionaonline.com.
by Ron Carr
First Baptist Church would like members to submit their favorite recipes for the church's centennial cookbook. Also they are gathering addresses of members who have moved away to invite them to the Centennial Celebration April 26-27, 2014. You can email firstbc@wtrt.net.
Registration for the SonShine School is now open. School days are Tuesday and Wednesday mornings from 8:30 a.m. till noon. Registration fee is $40. If you have questions call the church office at 250-3933.
*****
Parmer County Retired Teachers and School Personnel and spouses met June 25, 2013 for the annual ice cream social at the home of Von and Nancy Edelmon. There were 28 folks enjoying ice cream and cookies inside in the cool air conditioning. Nancy said they usually meet outside but it was just too hot. (more...)
Council to seek roof and water well bids
The regular meeting of the Friona city council was held Monday July 8 in council chambers at 619 Main St. All members were present. City manager Patricia Phipps, deputy city secretary Rosa Mendez, and city attorney Slater Elza were also present.
A public hearing for comments on the city's water quality report was called but no members of the public were present to comment. Mayor Rick White asked city manager Phipps if city water was safe and she assured him and the council it was. (more...)
Cheeseburger cooking and car show coming up
The annual Cheeseburger Cook-Off and Festival will be held Saturday July 20 at the Friona city park, sponsored by the Friona Chamber of Commerce and Agriculture. Musician Kris Gordon and his band will be performing live. (more...)