Council approves tax rate, lets bids
The Friona city council met in regular session Monday August 12. Councilman Greg Lewellen was absent. Mayor Rick White presided.
Police Chief Frank Mooney told the council that local enforcement activity has increased. He said the department has an opening for an officer with the resignation of Sgt. Waters. Applications will be taken until September 13. The chief also said he was applying for a grant to construct a safe room facility near the community center that will accommodate between 700-1,000 people and he is still waiting on grant information to hire a school resource officer.
City manager Patricia Phipps led a discussion of the proposed tax rate for the 2013-2014 fiscal year. Appraised value of property in the city, provided by the appraisal district, was $102,947,997, down almost $7 million from last year's appraisal, according to Phipps. The decrease is due to an inventory appraisal decrease at Millards Refrigerated Warehouse, Friona's largest taxpayer. The council set the 2013-2014 tax rate at .8250 per $100 valuation. Last year's rate was .7950 per $100 valuation.
The city has delivered a dump truck to Hereford to be sold in the Saturday equipment auction at the Bull Barn.
The council approved a carport variance at 1411 Euclid and tabled a variance request for a mobile home trailer at 311 W. 3rd until next meeting.
They approved a bid of $65,500 for a roof on the Friona library by Construction Services of Lubbock. Phipps said the city would replace the library air conditioning units during the roofing process. N.G. Painting of Kerrville, Texas was awarded the bid of $411,100 to rebuild the north water tank with a new roof and painting. The project will be done during January and February, a period of lower city water usage. The one-million gallon tank will be out of service during the reconstruction.
Council approved shredding of old city documents. Tuesday morning a records destruction company from Amarillo loaded 266 boxes of documents for shredding. Cost is 25-cents per pound.
An agreement with the Central Plains outpatient clinic was approved. The city pays $146.72 monthly rental of office space for the group, formerly named MHMR. July accounts payable and financial statements were discussed and approved.
The next meeting of the city council will be Monday September 9, 2013, at 619 Main St. All council meetings are open to the public.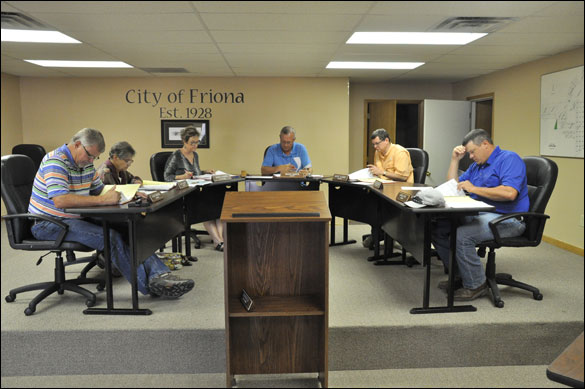 ron carr photo
Friona city council members study the proposed tax rate during Monday's meeting. From left are Alan Monroe, Martha Barker, city manager Patricia Phipps, Mayor Rick White, Bruce Fleming, and Charlie Pope. The council set the tax rate at .8250 for the next fiscal year.