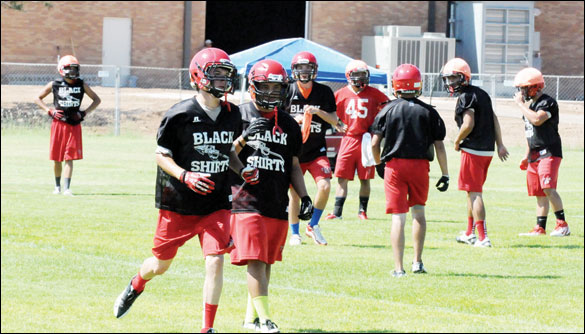 ron carr photo
Chieftain football is underway. The boys began practice Monday morning. They practice with full pads beginning Friday August 9. Next week practice will be held from 2:30 - 6:30 p.m. The Chiefs travel to Panhandle for a scrimmage on Saturday August 17, then to Shallowater to scrimmage on Thursday August 22. Season opener is Friday August 30 vs. Stratford at Dick Bivins Stadium in Amarillo. Game time 4:30 p.m.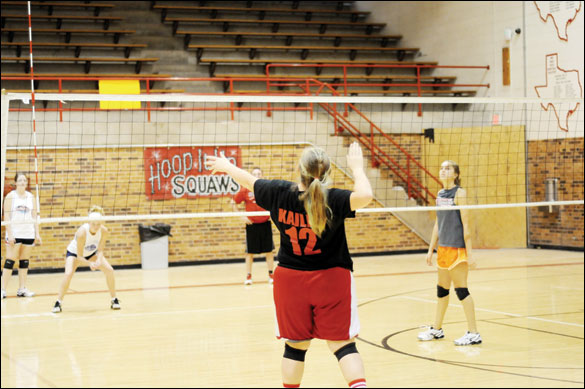 ron carr photo
Kailey Lucas serves in Tuesday volleyball practice. On the other side of the net are, l-r, Mercedes Rodriguez, Tai Strohmayer, Coach Bryan Masse, and Mykelti Rhodes. Practice began officially Monday.
Town Talk II
by Ron Carr
Friona Farmers Co-Op Gin's annual stockholder meeting is Tuesday August 13 at 7 p.m. in the gin's new barn, not at the junior high. Catered meal and door prizes will be available. Three directors will be elected as terms of Davy Carthel, John Jarecki, and Mitchell Wiseman will expire.
*****
The First Baptist Church's monthly newsletter says there will be a city wide youth rally Thursday August 15 from 5:00 - 8:00 p.m. at the Friona city park. All community young folks are invited to attend. (more...)
The schedule for the 57th annual Maize Days celebration. (more...)
FHS yearbooks are here
The 2013 yearbooks are in and available for pickup or purchase. If you ordered a book you may pick it up in the choir room at the high school. Distribution began Tuesday August 6. If you forgot to order one they do have extras available for $65. Check, cash, or money order is accepted. Checks payable to Friona High School Yearbook. (more...)