Hortencia Ortiz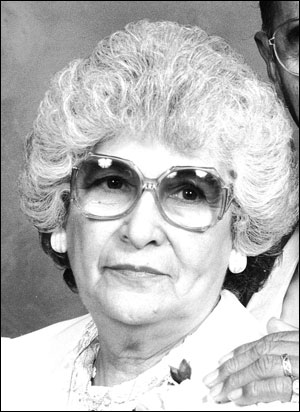 Hortencia Ortiz, 89, of Dimmitt passed away Monday August 5, 2013 in Dimmitt. Mass of Christian Burial will be Thursday, August 8, 2013 at the Immaculate Conception of Mary Catholic Church at 10:00 a.m. with Rev. Raj Arockia officiating. Burial will follow at Castro Memorial Gardens Cemetery. Arrangements are by Colonial Funeral Home of Dimmitt.
Hortencia was born September 1, 1923 in Charlotte, Texas to Grabiel and Genoveva Soliz Alaniz. She has been a resident of Castro County since 1967. She enjoyed crocheting, knitting, cooking, gardening, and could grow anything she touched. She taught herself English, Spanish, and math.
She was the type of mother who taught her children by her actions how to be a wonderful mother. Everyone in her eyes was considered family whether you were or not. She loved people and never met a stranger. Her greatest blessings were praying and attending church. She always sent blessings to everyone. She was a member of the Immaculate Conception of Mary Catholic Church.
She was preceded in death by her husband Justino Ortiz, a granddaughter Debra Ortiz, a daughter-in-law Minerva Ortiz, two brothers Grabial Alaniz, Jr. and Jesus Alaniz, and a sister Doris Drury.
She is survived by four sons, Fidel Ortiz of Friona, Justin Ortiz, Jr. of Dimmitt, Carlos Ortiz of Amarillo, and Eusebio Ortiz of Canyon; two daughters, Beatrice Fuentes of Dimmitt and Mary Elizabeth Esquivel of El Reno, Oklahoma; four sisters, Paulita Bautista of Charlotte, Texas, Andrea Compian of Big Foot, Texas, Estefana Tijerina of San Antonio, and Gina Thomas of Jacksonville, Florida; three brothers, Sebastian, Estevan, and George Alaniz, all of San Antonio; 14 grandchildren and 13 great-grandchildren.
You may sign the online guestbook at www.colonialfuneralhome.org.