One way to find out if people read the newspaper is to throw in a few mistakes. We do our share of errors, none intentional I assure you. Last week I said Jon and Brandi Surman (he's Cargill Friona general manager) were transferring to Garden City, Kansas. They are moving to Dodge City, Kansas.
Then I said Mary Joyce Barnett was coordinating the Class of 1963 reunion and they were inviting the Class of 1964. I was only off by about 10 years. They are holding the Class of 1953 reunion this weekend and have invited the Class of 1952 to join them. Plus we got a couple of classifieds wrong and misspelled a name in an ad. Haste still makes waste. So much for perfection. We apologize for the errors. (more...)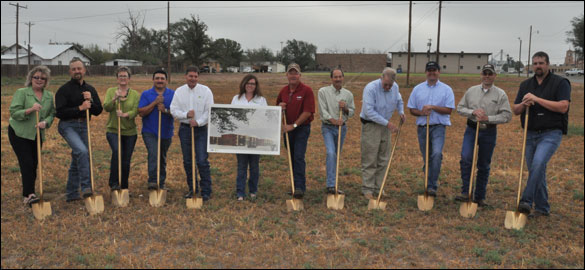 ron carr photo
A groundbreaking ceremony for a major apartment construction project was held Monday September 16. The apartment units are planned for the block bordered by 6th and 7th and Ashland and Woodland. Three apartment buildings containing 72 apartments are proposed. The builder is Jillian Homes from Clovis. From left are Chris Alexander, FEDC executive director; Jon Surman, Cargill general manager; Patricia Phipps, Friona city manager; Ruben Lucio, building contractor; Wayne Berry, president of Jillian Homes in Clovis; Alicia Brand, Jillian Homes; Rick White, Friona mayor; Henry Bromberg, Jillian Homes; Bill Stovell, Friona FEDC board member; and Cargill employees Casey Conrad, Scott Pohlman, and Jamin Phipps.
Clovis builder plans new apartments for Friona
As in all small towns, Friona has long been lacking in rental housing. Over the years Excel/Cargill has lobbied for rental housing to accommodate some of their 2,000 employees. It has been a challenge to teachers and coaches who accept positions with Friona ISD. Investors have been reluctant to commit to new construction. (more...)
The Friona Chieftains traveled to Amarillo River Road for their second game of the season. The Wildcats are a 3A team and both teams were looking for their first win. (more...)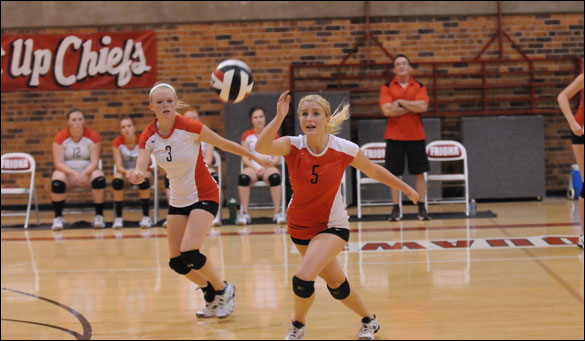 ron carr photo
Squaws Tai Strohmayer (3) and Aubrey Williams (5) chase the ball on defense in the game with Plainview Christian Saturday. The Squaws won in three games. More action photos in our photo section