After 28 years of running, walking, and bicycle riding, the Dixon Six is now in the history books. Jim Dixon and wife Jane hosted the friendly competition in conjunction with Maize Days since 1985. That was the year their son Milon graduated from Texas A&M, Jim said.
The run and walk event was held along Highway 214 north of Highway 60. It included a six mile run, a two mile run, and a two mile walk, plus a six mile bicycle run. Jim started out as a runner then later switched to the bike ride for the past several years but not this year. "It is just time to give it up," he said. "I've gotten too old to participate any longer."
The Dixon Six has always been popular with students and cross country runners and many others that just enjoyed the morning walk. This year there were 33 participants in the events. The Dixon family has always presented trophies to the top three finishers in each event.
The winners this year were: 2-mile walk, Eugenia Godoy & Catalina Flores tied for 1st and Marca Herring was 2nd; 2-mile run, Josh Barnett 1st, Alexis Alvarado 2nd, Chelsie Gomez 3rd; 6-mile run, Armando Flores 1st, Edwin Garcia 2nd, Jacob Rejino 3rd. The only participant in the 6-mile bike ride was Josiah Rejino.
The Dixons expressed their thanks to everyone that participated in the Dixon Six over the years.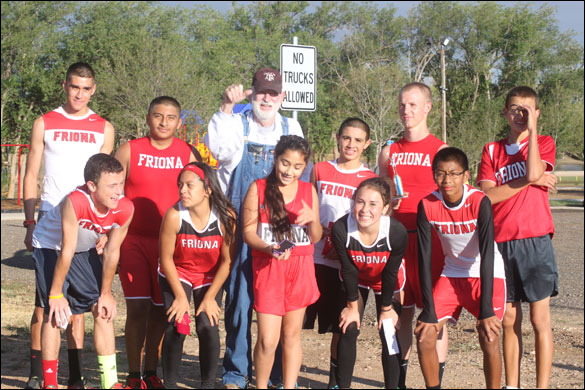 courtesy photo
Jim Dixon is shown with a group of youngsters that participated in the 2013 Dixon Six event at Maize Days. Jim and Jane Dixon have decided this was their last year to hold the Dixon Six. They started the event in 1985 and it has been held the Saturday morning of the Maize Days parade each year for 28 years.