We fell into fall on Sunday. Cooler temps early but 80s later on. Took a jacket to the homecoming game Friday night but didn't need it. Guess it won't be long until we will need coats. No rain in the immediate forecast.
*****
Anniversary time: Linda and Melvin Smith celebrated 34 years. Likewise former resident Gary and Suzi Mingus observed 34 years. If you or someone you know has an anniversary let us know. We do get some of our anniversary info from Facebook too.
*****
Socorro Gonzalez fell and broke a wrist over the weekend. Her daughter Sandra Valdez posted on Facebook they are searching for an orthopedic surgeon in Amarillo. Guess Socorro's beauty salon customers will be handicapped for a while. (more...)
The Chieftain homecoming drew a standing room crowd to Chieftain Field amid good weather, free hamburgers, and homecoming activities, crowning Rebecca Bailey as Homecoming Queen, and a pre-game touchdown run by Sammy Silva.
Unfortunately the Chiefs lost to Idalou 21-0. The always tough Wildcats racked up 203 passing yards and 154 rushing for a 357 offensive total. The Chiefs, without leading rusher Eddie Garcia, managed 264 yards of total offense, 167 rushing and 97 passing.
Running backs Omar Ramos (11 carries, 57 yards) and Michael Garcia (11 carries, 50 yards) took rushing honors. Cris Alvarez pitched in with 2 carries for 53 yards.
Mason Loflin completed 5 of 15 passes for 97 yards: receivers were Justin Rocha 1 for 15 yards, Brad Stowers 2 for 48, Jose Zamudio 1 for 13, and Antonio Adame 1 for 21.
The Chiefs had several opportunities to score as they moved inside Idalou's 20-yard line but the Wildcats defense stopped the drives.
The Chiefs (0-3) will be looking for their first win Friday night as they travel to Lubbock Roosevelt to take on the Eagles. The game will be on the radio with KNNK 100.5 FM and on WT Services channel 6. (more...)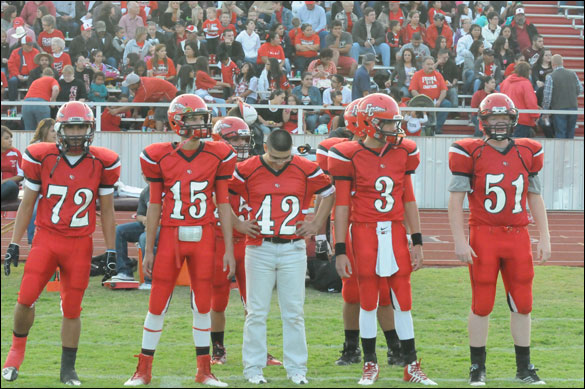 ron carr photos
Chieftain captains for the homecoming game were Abel Palacios (72), Brad Stowers (15), Mason Loflin (3), and Jacob Osborn (51). Honorary captain was Sammy Silva (42). Sammy is an outstanding Special Olympics athlete and huge Chieftain fan. Friday night before the game, the Chiefs and Idalou Wildcats lined up at the 50-yard line. Quarterback Loflin handed off to Sammy who streaked through the Wildcat defense for a 50-yard touchdown. The play was featured as the Play of the Week on Channel 10's Friday night Wrap Up program.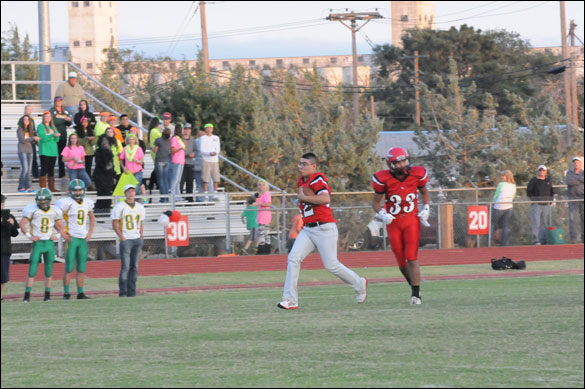 After 28 years of running, walking, and bicycle riding, the Dixon Six is now in the history books. Jim Dixon and wife Jane hosted the friendly competition in conjunction with Maize Days since 1985. That was the year their son Milon graduated from Texas A&M, Jim said. (more...)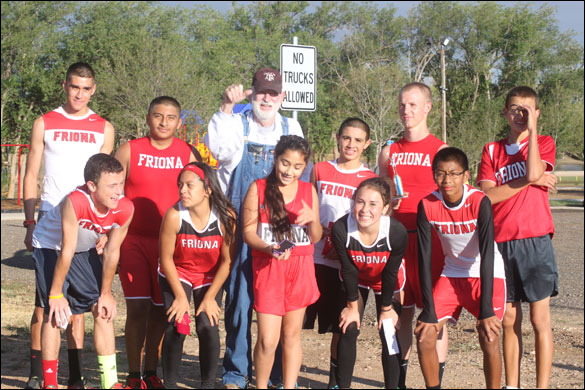 courtesy photo
Jim Dixon is shown with a group of youngsters that participated in the 2013 Dixon Six event at Maize Days. Jim and Jane Dixon have decided this was their last year to hold the Dixon Six. They started the event in 1985 and it has been held the Saturday morning of the Maize Days parade each year for 28 years.