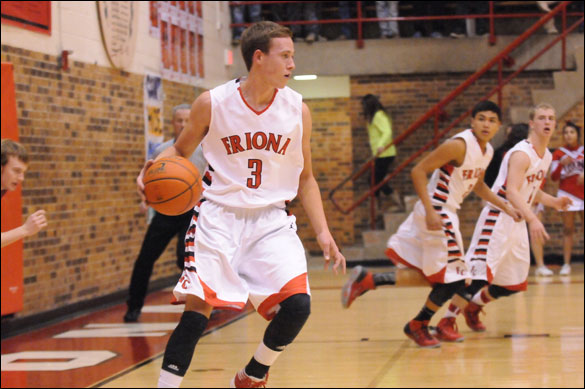 ron carr photo
Mason Loflin (3) grabbed a rebound and sets off on a fast break with teammates Saul Espino and Dallin Woods trailing along. The Chiefs begin the second half of district play Friday vs. the Olton Mustangs. Game time is 8:00 p.m.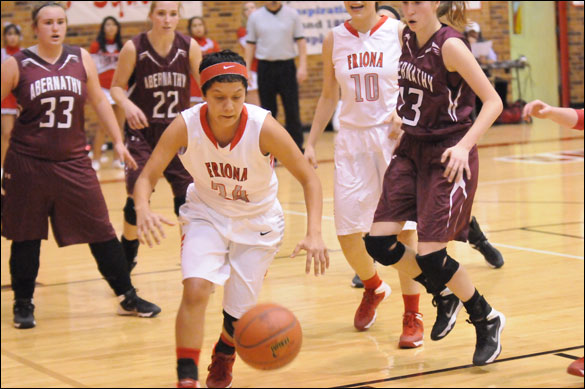 ron carr photo
Senior Squaw Marisol Posada (24) chases a loose ball in a recent game with Abernathy. The Squaws host Olton Friday, at Dimmitt Tuesday, host Littlefield Jan 31 then finish the season at Tulia February 4. The girls are still looking for their first district win. The Jan 31 game is the last home game for the Squaws and will be Senior Night. Parents will be introduced and a Basketball King and Queen announced before the girls game.

Town Talk II
Had nice weather most of this week but at press time they were predicting a cold Thursday with possibility of snow in parts of the Panhandle. They said the high on Thursday would be 19. That is the day we take the paper to the post office. Hope we don't get a lot of wind.
*****
Former Friona resident and Cargill management employee Carol Aistrup retired as of January 15 after 38 years working for Cargill. Carol transferred from Friona to Wichita, Kansas several years ago.
*****
FHS graduate (and valedictorian I believe) Josh Duenes graduated from Angelo State University in fall commencement ceremonies December 14. Josh received a Bachelor of Science degree. (more...)
St. Ann's German sausage dinner
St. Ann's Catholic Church of Bovina will have their annual German sausage dinner Sunday February 2 from 11:30 a.m. to 2:00 p.m. (Texas time) at St. Ann's parish hall on 3rd Street.
The menu will include homemade German sausage, creamed potatoes and gravy, green beans, homemade sauerkraut, cranberry sauce, relish plate, homemade bread, homemade desserts, tea or coffee. (more...)
Filing for local elections opens Jan 29
The filing period for city council, school board, and hospital district elections begins January 29 through February 28. The election, if necessary, will be held Saturday May 10, 2014.
For city council, the terms of Martha Barker, Greg Lewellen, Mayor Rick White, and Nancy Davis are expiring. Applications for city council candidates are available at city hall. (more...)