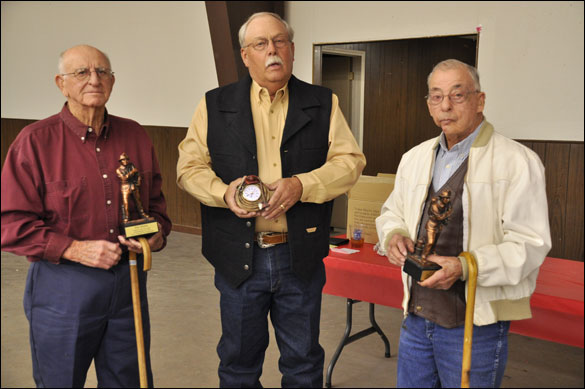 ron carr photo
At the Friona Fire Department Christmas banquet, Fire Chief Jim Taylor, center, and the volunteer firemen honored retired firefighters Joe Mann, left, and Lee Campbell for their years of service to the fire department. Joe and Lee represent 106 years of volunteer fireman service. They were presented with a firefighter statuette and a clock wrapped in a fire hose. Congratulations to these genetlemen for their service to the department and the Friona community.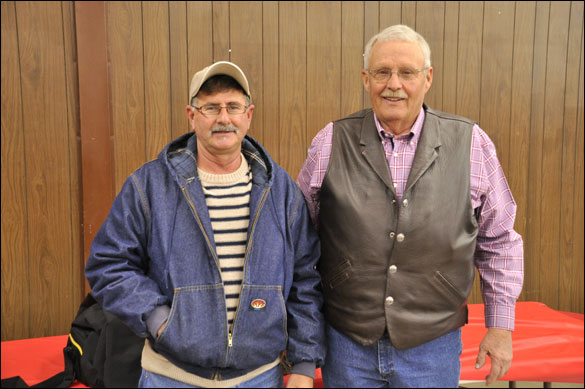 ron carr photo
Recognized at the Fire Department Christmas banquet for their years of service were firefighters Terry Sharrock, left, 25 years, and John Taylor for 30 years.
Town Talk II
Welcome back. Hope everyone had a nice Christmas/New Year holiday. Teachers and students are still enjoying holidays. School starts back Monday. The January school calendar is in this Star so you can keep up with school activities. I enjoyed the time off but glad to be back at work.
*****
You know by now we have increased some rates. If you buy the Star at Bi-Wize, Fast Stop, or Food Express in Bovina it will cost you $1.00. A one-year subscription in Parmer County is $30.00 and if you live out of the county a subscription is now $40.00 for a full year.
Our advertising rates will increase about 10%. If you need a rate quote give us a call. Announcements, i.e. birth, engagement, wedding, anniversaries will be $15. Charges for a Card of Thanks will depend on the size. And of course we do not charge for obituaries. (more...)
2014 Parmer County Livestock Show Schedule
Tuesday, January 14
8-11 a.m. Check in Dairy Heifers
5 p.m. Dairy Show (more...)
County Livestock Show has long history
By Mack Heald
The month of January is the beginning of the winter stock show season in Texas. Statewide this has occurred for more than 100 years with the Southwestern Exposition in Ft. Worth being the oldest major show beginning in 1896.
In January 2013, there was some discussion as to the age of the Parmer County Junior Livestock show, with some people saying it started in 1947 or 1948. I visited the Friona Star office, looked through their back issues, and discovered the show to be much older than we realized.