Obituaries
Rose Lee McCain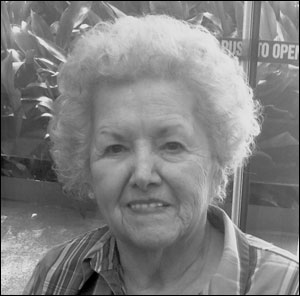 Rose Lee McCain, 82, of Bovina, died December 19 at 6:45 AM at an assisted living facility in Culver City, California. Funeral services were held on December 28, 2013 at the First Baptist Church of Bovina with Rev. Brian Mullins officiating. Burial followed in the Bovina Cemetery under the direction of Blackwell –Mullins Funeral Home of Friona.
Rose was born January 31, 1931 in Pep, Texas to Charles and Cora Lain Sanders. She graduated from Petit High School, attended Draughns Business School in Lubbock and worked as nurse in Amherst and Muleshoe. She married Leslie McCain in Levelland on December 30, 1951. They lived in the Bovina community more than 50 years where they farmed and raised cattle.
Rose was known for her great sense of humor, friendliness and encouraging words to everyone she met along her journey.
She received the Woman of the Year award from the Bovina Chamber of Commerce in 2001. She was a longtime member of the First Baptist Church of Bovina. For more than 20 years she was in charge of sending flowers and cards to families who lost loved ones.
She made numerous appearances on her boys TV show in Oklahoma City in the 80's and 90's. She also played a role in "Killer Tumbleweeds", a low budget film produced in Parmer County in 2006.
She is preceded in death by her parents, husband and two sisters, Ruth and Tiny, and granddaughter, Melody.
Survivors include her two sons, Ben McCain and wife Noelle of Los Angeles, California and Butch McCain and wife Betty of Grand Junction, Colorado; one brother, Ray Sanders of Abernathy, Texas; two grandchildren, Augusta and Mac McCain; and numerous nieces and nephews.
You may sign the online register book at www.blackwellmullins.com.
Bearldean Broyles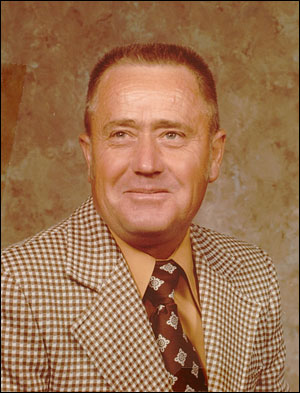 Bearldean Broyles 83, of Friona died Sunday December 29, 2013 in Lubbock. Graveside services have been scheduled for 2 p.m. Thursday, January 2, 2014 in the Friona Cemetery in Friona with Jeff Procter, minister of the 6th St. Church Of Christ in Friona, officiating. Burial following under the direction of Blackwell-Mullins Funeral Home of Friona.
Mr. Broyles was born August 31, 1930 in Shawnee, Oklahoma to John Owen and Jewel Dodson Broyles. He married Joyce Marie Hale October 23, 1954 in Waco.
He served in the United States Army during the Korean Conflict, was an area farmer, owner and operator of a trucking company.
Mr. Broyles was very active in the 6th St. Church Of Christ and Friona Chieftain/Squaw Booster Club and Friona civic organizations. He loved motorcycles and every vehicle he owned went fast.
He is preceded in death by his parents, wife, and a daughter Becky Gene Broyles.
Survivors include: one son, Larry Broyles of Muleshoe; one brother, Eugene Broyles and wife, Ada, of Amarillo; three grandsons, Brandon Broyles, Brennan Broyles and Brady Broyles; and five great-grandchildren.
Family visitation was held Wednesday. January 1, 2014, 6-8 P.M. at the funeral home.
Memorials can be made to Prairie Acres Nursing Home 201 East 15th Friona, Texas 79035 or the New Mexico Christian Children's Home 1356 NM 236 Portales, N.M. 88130
You may sign the online register book at www.blackwell-mullins.com
Dorothy Milsap Bowers
Graveside services for Dorothy (Millsap) Bowers, 98, of Muleshoe, were held Tuesday, December 31, 2013, at Muleshoe Memorial Park with Curtis Shelburne of Muleshoe officiating.
Dorothy died December 30, 2013 in Muleshoe. She was born December 23, 1915 in Bromide, Oklahoma to J.R. and Ella Alberta (Lee) Millsap. She married Wiley Bowers in Gracemont, Oklahoma on September 11, 1932.
Dorothy moved from Lawton, Oklahoma to the Muleshoe area in 1941. She was a member of the Muleshoe Art Association and the Bailey County Home Demonstration Club. She was also a member of the First Baptist Church in Muleshoe, where she taught adult and children's Sunday school for many years, and belonged to the WMU. Dorothy owned and operated Dot's Shop in Muleshoe.
Her husband, Wiley, in 1980, and her parents preceded her in death.
Three daughters survive Dorothy, Barbara Dalton of Ft. Worth, Texas, Louise Bynum of Friona, Texas and Virginia Bowers of Muleshoe, Texas; four grandchildren; and two great-grandchildren.
Memorials can be made to the First Baptist Church Library, 220 W. Avenue E, Muleshoe, Texas, 79347 and Parkview Nursing Home, 1100 W. Avenue J, Muleshoe, Texas, 79347.
Online condolences can be made at www.ellisfuneralhomes.com.