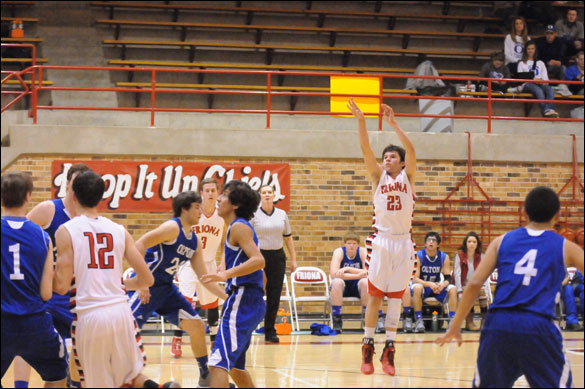 dana jameson photo
Cole Stowers (23) set a Chieftain scoring record with 48 points Friday night leading the Chiefs to a district win over Olton. The previous record of 45 points was held by Nathan Haile. Cole had 11 three-pointers in his total which tied a record held by Nick Ortiz. For his efforts Cole was selected by the Amarillo Globe News as Athlete of the Week. The Olton game was the first game of the second round of district play. The Chiefs record was 3-4 before they traveled to Dimmitt Tuesday and host Littlefield Friday. More action photos at frionaonline.com.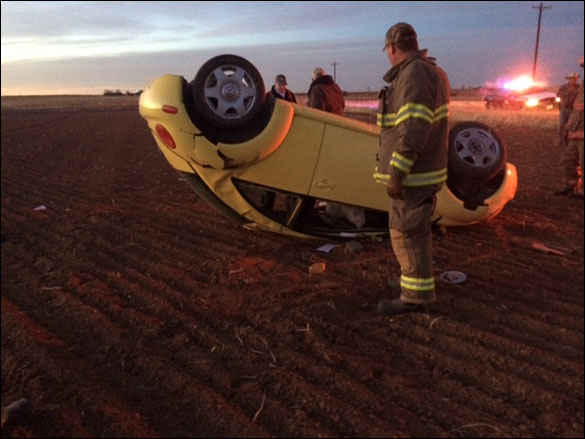 courtesy photo
The temperature was hovering at zero degrees Tuesday morning at 5:00 a.m. when Friona volunteer firemen were dispatched to a small grass fire east of the intersection of FM1172 and FM2397 caused by a downed power line. No sooner had they returned to town than another dispatch at 7:05 a.m. sent them back out to FM1172 south of Hwy 60. This Volkswagen, southbound on 1172, lost control on the big curve, overcorrected and ended up out in a field on its top. Friona EMS responded but there was no serious injury to the driver. DPS Trooper Izzy Carrasco investigated. K3 Wrecker picked up the vehicle. Thanks to volunteer fireman Matt Lingle for the photo and thanks to all of our first responders for their service to the community.

Town Talk II
The Friona Chamber of Commerce banquet date has been changed to Thursday March 6 at 6:30 p.m. at the community center. Tickets are $25 and will not be sold at the door. The Chamber is still seeking nominations for the citizen awards. Do you know someone that has been an asset to their colleagues and the community? Nominations are needed for citizen, man, woman, teacher, employee, and boy and girl student of the year. Forms are available at the Chamber office. If you need help with the process call the Chamber at 250-3491.
*****
The Panhandle Plains Historical Museum (PPHM) in Canyon will be hosting Toddler Tuesdays. It is a program for young children ages 2-5. The program will be held the second Tuesday of each month and is free with museum admission. On February 11 Dr. Elizabeth will present Polish fairytales. Families with children of all ages are encouraged to participate.
*****
Friday Jan 31 is the final home basketball game for the Squaws. It will be senior night for the Chiefs and Squaws, managers, and cheerleaders. Senior parents will be introduced and the basketball king and queen will be announced. All of this takes place about 6:00 p.m. before the varsity girls game at 6:30. (more...)
Parmer County commissioners met Monday January 27 at the courthouse in Farwell.
They approved a tax abatement application from Mariah South LLC for the construction of a wind farm. It is a ten year abatement that becomes effective in 2016. For the first five years they will pay $2,000 per megawatt in lieu of taxes. In year six they will pay $1,500 per megawatt plus 10% of tax value. The amount decreases each year until in year ten they will pay $500 per megawatt plus 50% of tax value.
The quarterly treasurer's report was approved and is included in this Friona Star. (more...)