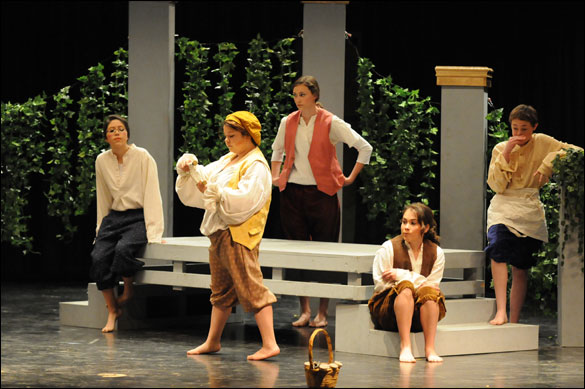 dana jameson photo
The Friona high school one-act play is titled "A Midsummer Night's Dream." They will compete at district on Thursday March 20. In this scene from Sunday's dress rehearsal performance are, l-r, Esmeralda Barrandey, Angela Hernandez, Kim DeWit, Chelsi Gomez, and Tyler Smith. Photos from the play are available in our photo section.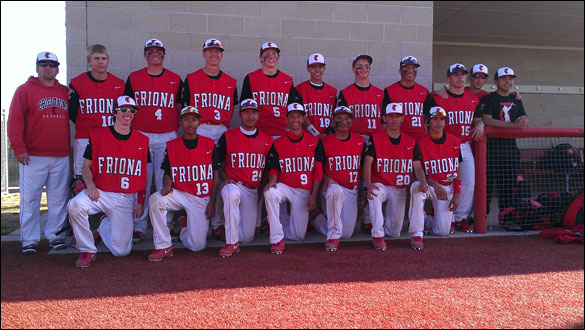 courtesy photo
The Friona Chieftains Baseball team went 3-0 and earned the title Champions of the 2014 Pump Jack Wooden Bat Classic in Sundown over the weekend. The Chieftains beat Slaton, 12-5, Seagraves, 8-0 and Sundown, 6-2. Pictured are, back, l-r, Coach Haddock, Hunter Sundre, Brandon Berend, Mason Loflin, Brayden Pope, Saul Espino, Dallin Woods, Antonio Adame, Michael Garcia, Coach Ruckman and Rene Rodriguez. Front, l-r, Jacob Dickson, Daniel Pena, Jose Rocha, Justin Rocha, Estevan Rocha, Chris Alvarez and Mason Mireles.
Town Talk II
Today, Thursday March 20, is the first official day of spring but the weather continues to alternate between winter and spring. Cold in the early mornings and temps in the 70s later in the day. We missed the rain that was forecast in the area over the weekend. I haven't put away my coats yet. Guess spring is coming though. The city is advertising for a swimming pool manager already. Applications are available at city hall. I'm sure they will be looking for lifeguards soon too. The folks that pray for rain this time of year better get started. We are dry and dusty here.
*****
The EPA has declared this week as Fix A Leak Week. Check out your toilets, sinks, outside faucets and anywhere there may be a water leak and fix it. This could save thousands of gallons of water, not to mention save money on your water bill. (more...)
It is that time again. Time to sign-up for Friona's Kids Inc. baseball program. We have included a sign-up form elsewhere in this week's Star. Deadline for sign-up is Friday March 28.
Forms will be available at the Friona primary and elementary school offices and the Bovina elementary office. Boys and girls from Pre-K to 6th grade are eligible. The forms can be returned to the school offices. For more information contact Jamie Lewellen at 806-206-0743 or Tonia Abarca at 806-240-2943. (more...)
The Friona High School Class of 2014 will serve up the annual steak dinner on Sunday April 13 in the junior high cafeteria. Serving time is 11:00 a.m. to 1:30 p.m. Tickets purchased in advance are adults $12, children under 10 years $10. They cost $1.00 more at the door.
Menu is steak, baked potato, green beans, rolls and homemade desserts. Takeouts will be available. Tickets are available from any senior or contact Allison Johnston or Kim Kimbrough. Proceeds from this annual dinner go to the all-night drug free party held after graduation. (more...)