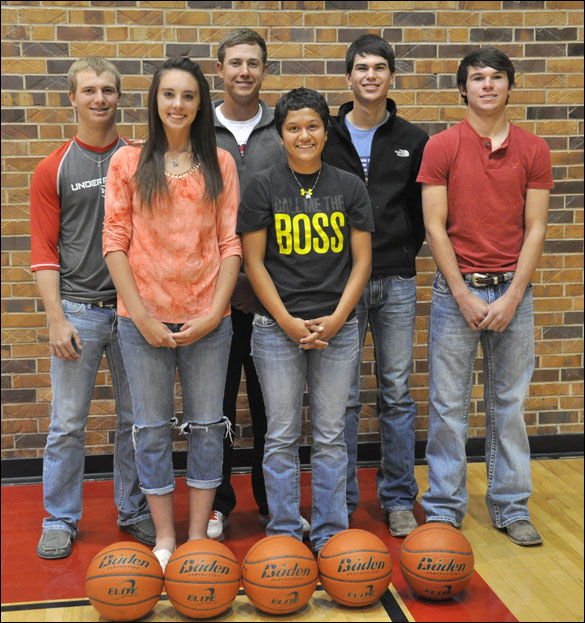 dana jameson photo
Six FHS athletes were named to the 2014 All-District basketball team. Left to right, Dallin Woods (1st team), Kendall Kimbrough (1st team), Mason Loflin (Honorable Mention), Marisol Posada (Honorable Mention), Brad Stowers (Honorable Mention) and Cole Stowers (1st team).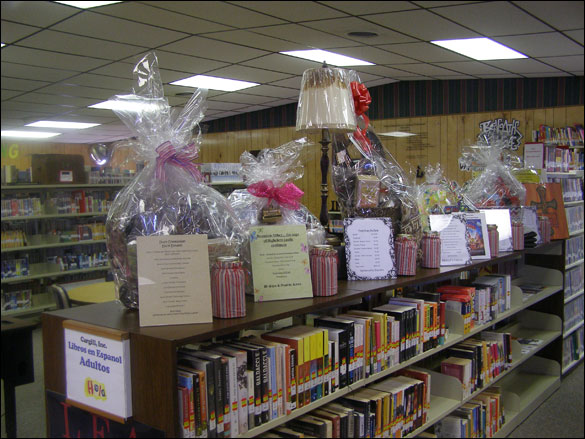 courtesy photo
FRIENDS of the Friona Public Library are getting ready for their annual literary basket raffle. Drawing will be Sunday, April 27th at 2 PM at the Redeemer Center. Baskets are on display at the Library and at Veterinary Industries. Tickets are $1 for a chance to win. The Friends Basket contains an iPad Air and is valued at $575. Membership drive is in progress. If you are not yet a member, please consider joining. Annual dues are $5 individual, $10 family, $25 business or organization, and lifetime $200.
Town Talk II
That was rain we saw Saturday night. Didn't recognize it at first. The WT Services weather info says it was 0.19". The rain caused a slick highway and a semi- rollover about 8:30 p.m. Saturday west of town near Cargill. A husband and wife team were extracted by our volunteer firemen after they cut out the front windshield. Friona EMS transported them to the hospital. The volunteer firemen were called to two grass fires last week. Let's hope for a lot more rain.
*****
Loyal Leal's fans might be happy to know that the popular Mexican Restaurant has opened a Leal's in Littlefield at 601 Waylon Jennings Blvd., so says an ad in the Littlefield newspaper. Now trips to Littlefield don't necessarily require a stop in Muleshoe. (more...)
Cancer Coalition 'Walk for a Cure'
The Parmer County Cancer Coalition (PCCC) will get back to basics with a "Walk for a Cure", Saturday June 7, 8 a.m. to 12 noon at the Friona high school track. The event will be similar to the former Relay for Life that were held in years past. All funds stay in Parmer County providing grant money to Parmer County residents undergoing cancer treatments.
There will be some distinct changes from the 'Relay' format. Walking for cancer is the goal and focus to raise money to assist our cancer patients. This will be an individual event rather than teams. The cost to participate is by donation. The amount is up to the participant. (more...)
April and May are busy months, culminating with the Class of 2014 graduation and all night drug free party. Here is a list of activities we know about during the next couple of months. We are going to run the calendar for the next few weeks so if we have left an event off let us know. Thanks!!!!!
April 11 District track at Dimmitt
April 13 Senior class steak dinner 11:00 a.m. to 1:30 p.m. Junior High cafeteria.
April 14 Senior banquet at Calvary Baptist Church 6:30 p.m. (more...)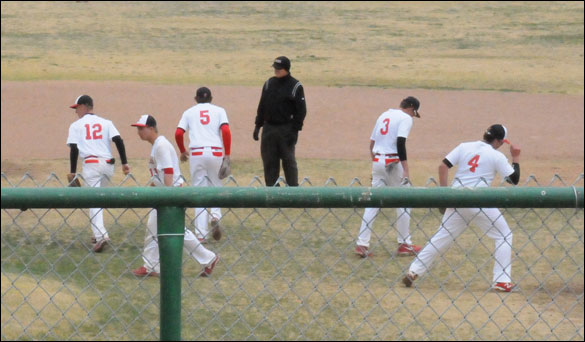 ron carr photo
The Chieftain infield gets ready to play in the Boys Ranch game Saturday. The Chiefs won 9-8. This view is from high atop the concession stand. The Chiefs are Dallin Woods (11) pitcher, Josh Barnett (12), Brayden Pope (5), Mason Loflin (3) and Brandon Berend (4). More baseball photos in our photo section.