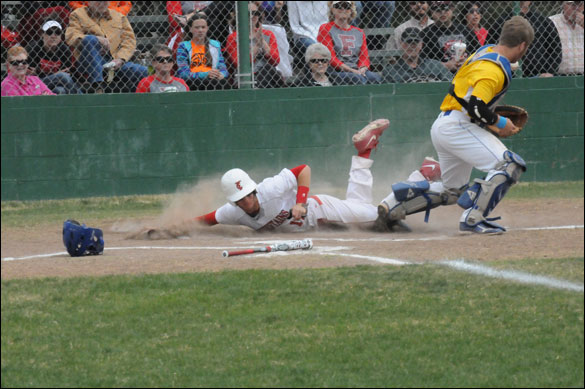 ron carr photo
Lead-off batter Dallin Woods (11) scores the first run of a 7-run first inning in the Chiefs game with Boys Ranch Saturday. Even with a 7-0 start the Chiefs had to battle Boys Ranch's comeback to win 9-8 in 7 innings. Final regular season game is Monday April 28 at 4:00 p.m. here vs. Sanford-Fritch. It will be senior night and senior parents will be recognized after the game.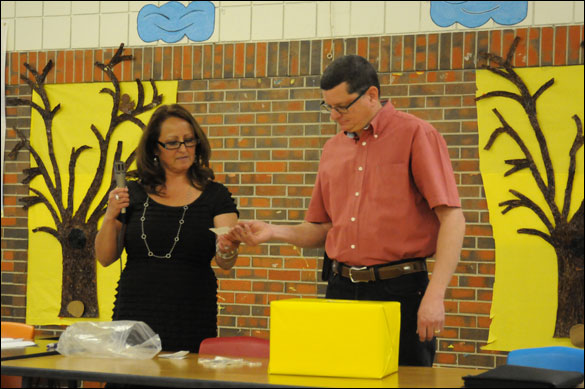 dana jameson photo
Credit Union president Nancy Davis and Board Chairman Bruce Fleming drawing for door prizes during the annual meeting Tuesday evening. During the business meeting Chairman Fleming announced plans for the construction of a new credit union building. He said they were negotiating a location and an official announcement would be made later.
Town Talk II
So far this month Friona has received about 0.30" of rain. The brief shower on Sunday was nice but we need more than five minutes of rain. Forecasts said might get more later in the week.
*****
It appears the Chieftains will play Littlefield in the baseball playoffs. First playoff games the May 2 weekend. Will probably be a 2 out of 3 series. Don't know anything for sure yet. Will let you know. Watch our Facebook page for specific details. (more...)
(We received this email from Mayor Rick White)
Ron,
Within the last couple of months, I have received many inquiries, questions and comments about the life span of the Friona Golf Course. I could not answer all of the questions, so I visited with Dee King last week and found out through Dee the following information: (more...)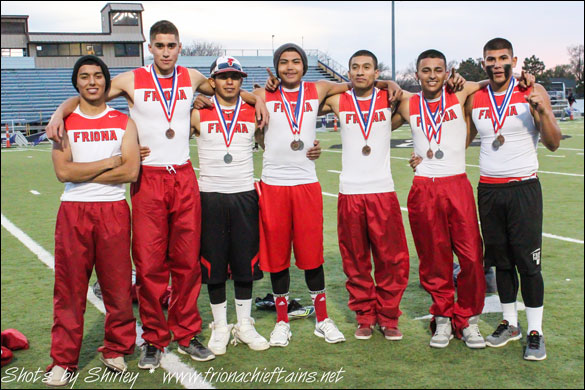 shirley prokop photo
Friona High School Boys Track competed in Area competition with Armando Flores qualifying for Regionals in the 1600 Meter Run and the 800 Meter Relay team of Eddy Garcia, Jose Zamudio, Abel Palacios and Adrian Munoz qualifying as well. Pictured are, l-r, Chris Alvarez, Armando Flores, Eddy Garcia, Jose Zamudio, Aran Ramirez, Adrian Munoz, Abel Palacios