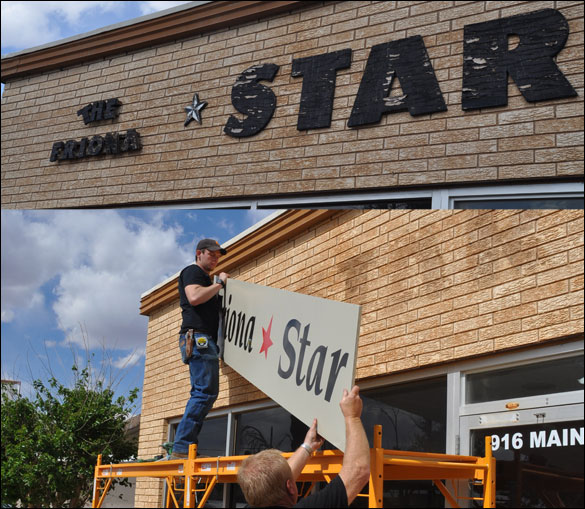 dana jameson photo
The old and the new. After more than 40 years, the Friona Star building on Main St. has a new sign. The old wood letters have withstood the sun, rain, snow, and wind but were showing the wear. Bobby Thompson and his son Collin installed a brand new sign on the front of the building last week. Bobby is the owner of Glass Pros and he is a sign pro too. The metal sign, designed to look like the newspaper masthead, should last for another half century. We saved the old wood letters and will preserve them for history.

Town Talk II
Is it raining yet? The weather people say it is going to maybe rain for several days. Let's hope they are correct. The first day of summer is not until June 21.
*****
We hope you like this week's Class of 2014 Graduation Issue. We have featured the 77 graduates of the Class of 2014 and hope that all of their goals and dreams come true. They will embark into the real world following commencement ceremonies at 8:00 p.m. Friday May 30 at Chieftain Field. (more...)
Veggeberg, Ortiz, Murdock in the FHS Hall of Honor
Several years ago Friona High School established a Hall of Distinguished Graduates to recognize graduates who had gone on to distinguished careers. The name and criteria for inclusion has been changed now to the FHS Hall of Honor. The qualification process has been broadened to include teachers, coaches, and staff of the school district who have served with distinction.
It was announced at Sunday's senior academic reception that the Class of 2014 gift will be funds to update and move the current Distinguished Graduates photos and bios into the Spirit Hall. The Spirit Hall is the hall leading into the main gym. Photos of the Distinguished Graduates are currently displayed in the hall by the school office. It was felt that by moving the Hall of Honor to Spirit Hall more of the public would be able to see it.
Gayle Murdock, FCCLA and LifeSmarts teacher/coach for 39 years, in the first staff member to receive the Hall of Honor induction. Ms. Murdock spent her entire 39-year career in Friona and will retire at the end of this school year. (more, with pictures...)