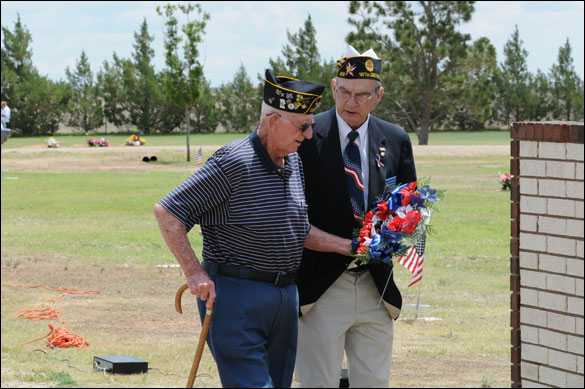 ron carr photo
World War II veteran Joe Mann, left, and American Legion Post Commander Bill Dannheim place a wreath during the Memorial Day service at the Friona Cemetary.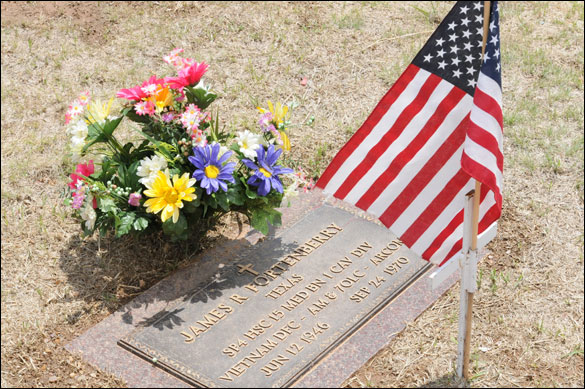 ron carr photo
James Fortenberry, killed in Vietnam in 1970 at the age of 24. One of the many veteran graves remembered at Friona Cemetery on Memorial Day.
Town Talk II
Is it raining yet? The weather people say it is going to maybe rain for several days. Let's hope they are correct. The first day of summer is not until June 21.
*****
We hope you like this week's Class of 2014 Graduation Issue. We have featured the 77 graduates of the Class of 2014 and hope that all of their goals and dreams come true. They will embark into the real world following commencement ceremonies at 8:00 p.m. Friday May 30 at Chieftain Field. (more...)
Walk for a cure will benefit Cancer Coalition
The Parmer County Cancer Coalition's Walk for a Cure will be held Saturday June 7 at the high school track from 8:00 a.m. to noon. Entry fee is by donation.
Ribbons will be for sale at the event to honor loved ones affected by cancer. They are $5.00 each or 5 for $20.00. T-shirts and hats will also be for sale that day.
Bring lawn chairs, blankets, canopies, and whatever else you want to bring. There will be lunch at the track at the conclusion of the event. All proceeds benefit the Cancer Coalition. For more info contact Greg or Jamie Lewellen.
Who's Who assembly names the "Most"
The Friona High School Who's Who assembly was held Thursday, May 15. The top honors of Mr. and Miss FHS went to Isaac Gallardo and Mykelti Rhodes. Class favorites were: Freshman, Edwin Garcia and Raquel Davila; Sophomore, Nicholas Leal and Johnna Thompson; Junior, Mason Loflin and Andrea Juarez; and Senior, Isaac Gallardo and Holly Johnston.
Other category winners were:
Most Likely to Succeed: Freshman, Mason Fleming and Alexa Garcia; Sophomore, Josue Ojeda and Jasmin Rodriguez; Junior, Haden Smiley and Kayla Alexander; and Senior, Ivan Soto and Holly Johnston. (more)