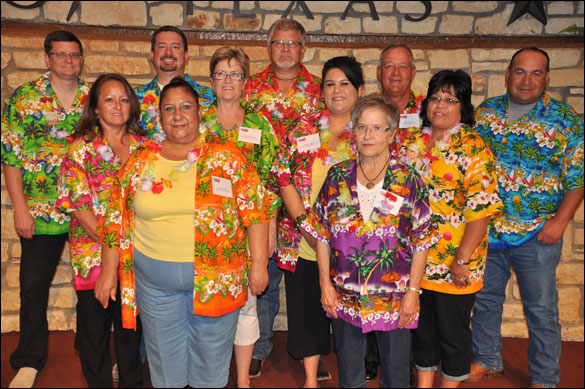 ron carr photo
Friona city employees and officials hosted the Texas Municipal League Region 2 meeting at the Amarillo Civic Center Thursday evening July 17. As you can see they selected a Hawaii theme for the event. Front row, l-r, Rita Prieto, Martha Barker; middle row, l-r, Nancy Davis, Patricia Phipps, Rosa Mendez, Pam Mercado; back row, l-r, Bruce Fleming, Greg Lewellen, Alan Monroe, Rick White, and Salvador Garcia. The meal was prepared by Charlie Pope and Rick and Dianne White. State senator Kel Seliger was the featured speaker.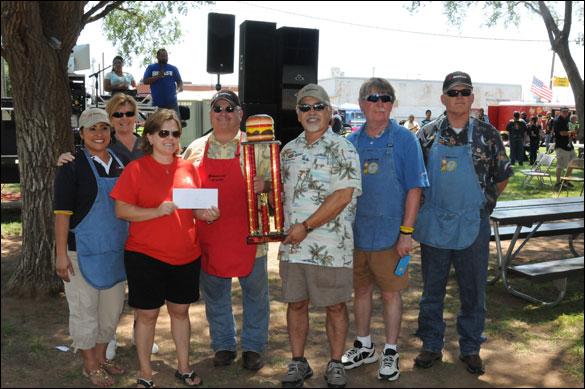 ron carr photo
The Xcel Energy team won first place in the Cheeseburger Cook Off competition. Xcel donated the $1,000 first place prize money to the Parmer County Cancer Coalition.
Town Talk II
Was that more rain Monday night? We have been blessed with the rains in recent weeks without high winds and hail. The maintenance crew working on Hwy 60 were told before the job began that they shouldn't worry about rain because it doesn't rain much here. Surprise! They have been pumping water out of the construction frequently these days.
*****
What great weather we had for the Cheeseburger Festival on Saturday. It was overcast and cool and breezy for most of the morning, then sunny but not too hot in the afternoon. At the Noon Lions French fries booth where I spent most of the day, a couple of our guys dug out hoodies to keep warm in the morning. (more...)
It is Jamaica time at St. Teresa's Catholic Church. This years Jamaica will be held on Sunday, August 3 from 11 a.m. to 9 p.m. on the church grounds. The public is invited to come out and enjoy good food and games as well as great music. (more...)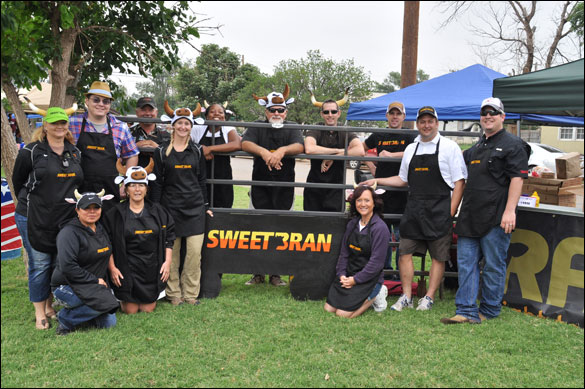 ron carr photo
The Sweet Bran team won second place at the Saturday Cheeseburger Cook Off and also won the Cutest Camp Site. Sweet Bran, located west of Bovina, donated their $300 second place prize money to the Bovina fire department.