Obituaries
Dolores "Dee" Marie Colley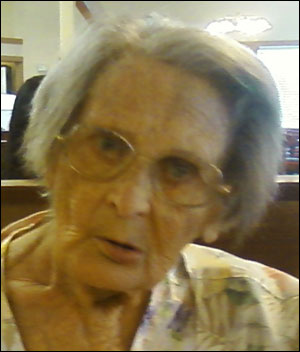 Dolores "Dee" Marie Colley, 83, longtime Friona resident, died, Thursday, July 17, 2014 in Amarillo, Texas.
Graveside services were held at 10:00 a.m., Wednesday, July 23, 2014 in Stroud Cemetery, Sebastian County, Greenwood, Arkansas. Father John Antony, Parish Priest of Immaculate Conception Catholic Church, Fort Smith, Arkansas will officiate as Celebrant. Services were under the direction of Hereford Heritage Funeral Home, 411 E 6th Street, Hereford, Texas 79045.
Dee was born January 15, 1931 in Warren, Ohio, to Thomas and Mary (Struk) Tononi. She married Jessie Lee Colley on May 11, 1956. Dee loved her Lord and her family with all her heart. She liked to attend the Amarillo Downtown Women's Club and fellowship with her many friends there. She liked to travel, play the slot machines in Laughlin, NV, read and can vegetables. Dee will be dearly missed by her family and friends.
Dee was preceded in death by her parents, husband Jessie Lee Colley, Sr. 1978, and one sister, Elizabeth Mae Bryant, 2004.
Survivors include two sons, Michael "Mike" Colley of Friona and Jessie Colley, Jr. and wife Pamela of Clovis, NM; three daughters, Kathie Colley of Erie, PA, Mary Alice Burns and husband Paul of Hereford, and Margaret Flood and husband Frances of LaGrange, TX; one step-daughter, Margaret Moore of Ft. Smith, AR; one adopted son, Joshua Arguijo and wife Angela of Hereford; two special friends, Robert Villines and wife Michelle of Lubbock, and Errod Clayton of LaGrange, TX; 17 grandchildren; 22 great grandchildren; one great-great grandchild, two step grandchildren and "one on the way".
The family suggests memorials to the High Plains Food Bank of Amarillo, PO Box 31803, Amarillo TX, 79120, Downtown Women's Center, 409 S. Monroe, Amarillo, TX 79101 or Charity of Choice.
Express your condolences to the family by signing the guest book of Dolores at www.herefordheritagefh.com.