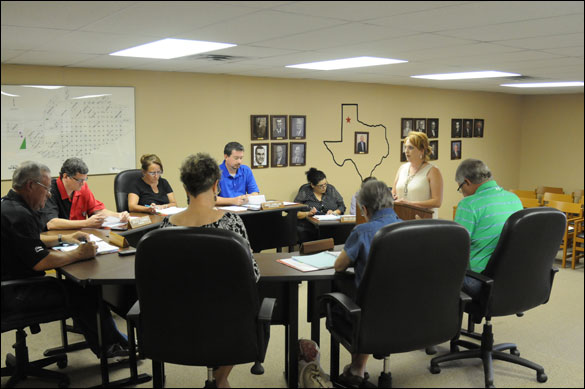 ron carr photo
Jill Timms, Chief Appraiser for the Parmer County Appraisal District, briefs the Friona city council on the 2014 property tax estimates. The council voted to increase the city tax rate from $0.794200 to $0.799200 per $100 valuation. Two public hearings are scheduled for comments. See the notice in this Star. Clockwise from Mrs. Timms are, Alan Monroe, Martha Barker, city manager Patricia Phipps, Mayor Rick White, Bruce Fleming, Nancy Davis, Greg Lewellen, and deputy city secretary Rosa Mendez.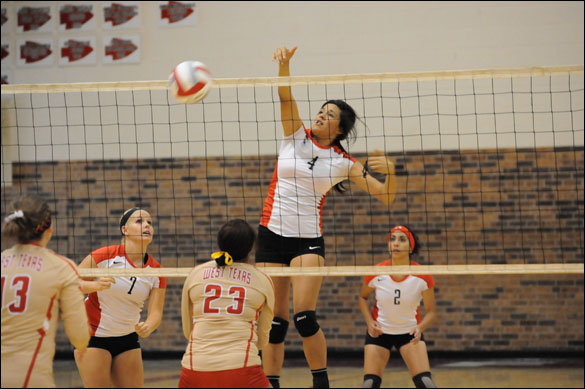 ron carr photo
Senior Squaw Christina Green (4) slams home a point in Tuesday night's match with the West Texas High Lady Comanches. Looking on are teammates Kendall Barnett (7) and Gaby Chavez (2). The Squaws won handily in three games. They will play in a tournament at Shallowater this weekend.
Crystal Moroney, proprietress of Milk House Market, is going to organize a Farmers Market for Saturday August 23 from 9:00 a.m. to 2:00 p.m. at 1017 Main at Hwy 60. The success depends on your participation. If you have items such as eggs, fruit, vegetables, honey, jams, jellies, cheese, baked goods, local produce, or artisan crafts, this will be a good time to sell. For more info call Crystal at 602-739-0813.
*****
Carolyn Wiseman brought this to our attention. Insurance is available in the event you or a family member require emergency Life Star helicopter transfer to Amarillo. The cost is only $65 per year for the family. A helicopter transfer can be quite expensive and this seems like a great deal. Brochures on the service are available at the hospital lobby or online at joinmedtrans.com. (more...)
Next week, on Tuesday, Wednesday, and Thursday, the Highway 60 construction crews will be pouring the cement. They will start at the west end of the construction and work east. They are asking local residents to avoid Highway 60 in the construction zone for the next couple of weeks if at all possible while they are pouring cement.
They anticipate pouring half of the construction area next week and continue with the other half the following week. (more...)
Council seeks tax increase, approves expendatures
The Friona city council meetings are usually less than an hour but Monday's meeting extended to two hours. The agenda was heavy on financial matters, approving the 2014 fiscal budget, approving a property tax rate, and authorize the city manager to transfer funds for several expenditures.
The council met at 6:30 p.m. Monday with all members present, plus city manager Patricia Phipps, city attorney Slater Elza, and deputy city secretary Rosa Mendez. (more...)
Tax accessor office closed Aug 28
Parmer County Tax Assessor Bobbie Pierson advises that the office in Farwell will be closed Thursday August 28 for training.
She also said that farm vehicle renewals will no longer be available at the Chamber of Commerce office in Friona. Farm vehicle renewals will only be available at the Tax Assessor office in Farwell. The Ag Timber # will be required at time of renewal.