Obituaries
Bailey Reece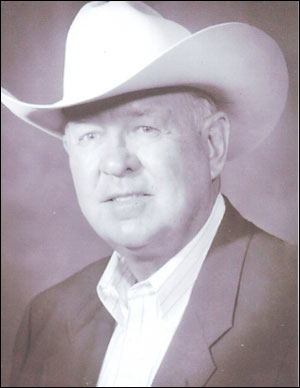 Bailey Reece, 83, died Monday, August 11, 2014 in Canyon, Texas. Services were held Thursday, August 14,2014 at 2 p.m.. at Brooks Chapel with Rick Reece and Jordan Reece officiating. Burial was held in Dreamland Cemetery. Arrangements are under the direction of Brooks Funeral Home of Canyon and Happy.
Bailey Reece was born on December 27, 1931 in La Junta, Colorado to V.L. (Shorty) and Treva Drake Reece. He was a graduate of Adrian High School and received his B.B.A. degree from W.T.S.U. He married Houstene Prichard on April 4, 1954 in the J. A. Hill Chapel. She preceded him in death on February 12, 2013 after 59 wonderful years of marriage. Bailey and Houstene enjoyed their small herd of cattle and their competition cutting horses. He was a veteran of the U.S. Navy and a member of the First Baptist Church of Friona.
Bailey was also a member of Alpha Kappa Pi (business fraternity), Jaycees, Lions Club, Amarillo Radio Kontrol Society, Heart Association, served as county chair for the March of Dimes, president of Tulia Chamber of Commerce, director of Caprock Cutting Horse Association, Panhandle Cutting Horse Association, the National Cutting Horse Association, and past Democratic Chair in Dickens County. He also sculpted and donated the "Top Hand" award to the Panhandle Cutting Horse Association.
He served as board member and president of the Texas Rural Electric Systems. He rode the horse "Willy-N-Freckles" to win the 1996 Non-Pro title in the Panhandle Cutting Horse Association, and with his wife and granddaughters, he volunteered cutting horse demonstrations for the American Quarter Horse Association. He also enjoyed judging authenticity of chuck wagons over Texas and New Mexico.
Bailey was preceded in death by his parents and a younger brother, Jimmy Ray Reece, in 1981.
Survivors include three children, Janet Freeman, Kay Acton, and Richard Reece and wife, Donna, all of Canyon; six grandchildren, Kristin and Lauren Freeman, Ashley Acton, Jordan and Hunter Reece, all of Canyon, and Kelsie Stone and husband, Zack, of Seminole, TX; one great grandchild, Bryer Lee Stone; and a brother, Ted Reece and wife, Barbara, of Amarillo.
Please sign the online guest registry at www.brooksfuneral.com.
Janice Noreen Miller
Janice Noreen Miller died on Monday, August 4, 2014 in Ft. Collins, Colorado in the home of her daughter, Mara Miller.
Janice was born August 21, 1939, at home in Norman, Oklahoma to Roy V. Miller Sr. and Eva G. Miller. Janice was the sixth child of seven. Her siblings included Roy V. Jr., Mary Lou, Ross, Donna, Linda, and John David. Roy V. Jr. married Glenda Williams. Mary Lou married Dale Glass. Ross married Nelda May. Donna married Sam Mears. Linda married Clyde Tims. And Janice married Roy Norris. John David drowned when he was sixteen.
The Miller family moved to Friona after World War II. Janice graduated in 1957 from Friona High School as valedictorian of her class. She attended Wayland Baptist University three years then transferred to Colorado State University 1961 and graduated with a major in mathematics. She then attended the University of Texas and attained a master's degree. After graduating, she taught at Wayland Baptist University before deciding to go to Los Alamos, New Mexico in 1964 to work at the National Laboratory as a computer programmer. She first lived in a concrete barracks apartment before Los Alamos opened the town to businesses and other housing. After she married Roy, they built a home in White Rock, which was located just down the hill from the lab. They were later divorced. Janice worked at the lab until she retired.
Janice had one daughter, Mara Lynne. Mara graduated from nursing school in 2013. She works and lives in Ft. Collins and was able to have her mother stay with her for the past few months.
Janice was preceded in death by her parents; her brothers, Roy, Ross, and John David; and a sister, Mary Lou. She wished to donate her body to medical science. Her body was sent to the University of Colorado in Denver.
Mara is planning a celebration of Janice's life in Los Alamos and in Amarillo.
Sympathy cards may be sent to Mara Miller,1732 Bedford Circle, Ft. Collins, CO 80526.