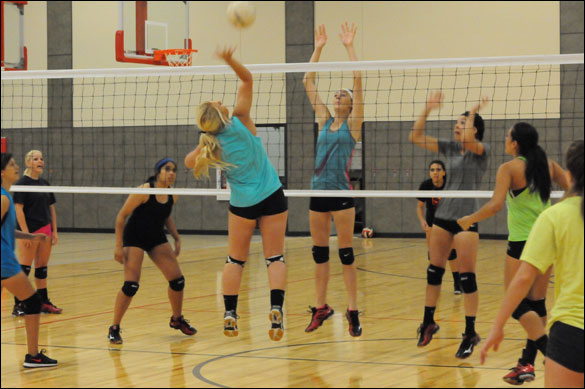 ron carr photo
Volleyball is in the air as the varsity and JV Squaws took to the court this week for the beginning of practice. The teams travel to Amarillo Monday for a dual scrimmage with West Texas High and Holy Cross. The volleyball schedule is in this Star. The four team district is Friona, Dimmitt, Tulia, and Littlefield.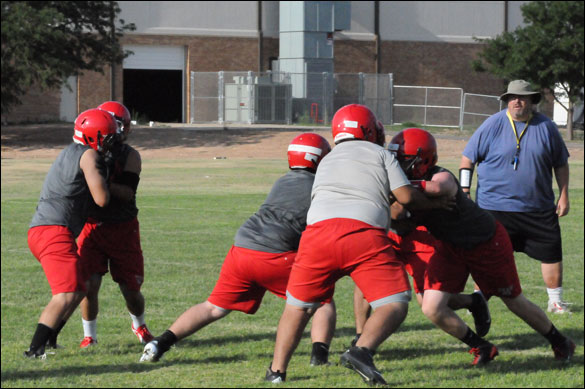 ron carr photo
The big guy, Coach Daniel Hutchins, runs some big guy drills with the Chieftain linemen during Tuesday's practice. The Chiefs can practice in full pads starting Friday.
Friona Star Football Contest will start September 4
58th Annual Maize Days Celebration September 26–October 4
Boy Scouts Troop 56 are having a garage sale tomorrow, Friday August 8, beginning at 8:00 a.m. until whenever. The sale will be at the Scout House located west of the community center. (more...)
Council to consider 2014 tax rate
The Friona city council will meet in regular session Monday August 11 at 6:30 p.m. in council chambers, 619 Main St. All council meetings are open to the public. (more...)
Little Miss and Miss Friona pageants to combine
The Friona Chamber of Commerce is calling all girls that are interested in taking part in the upcoming Little Miss Friona and Miss Friona pageant, which will be held Friday, September 26 at 6 p.m. at the Friona High School Auditorium. (more...)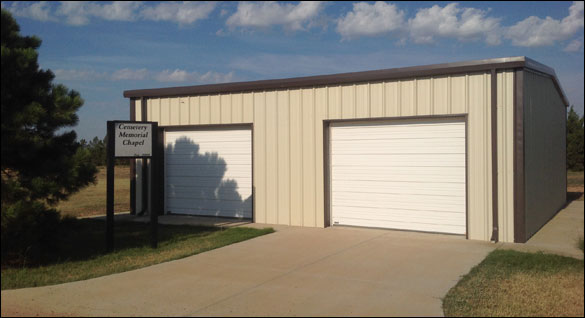 holly campbell photo
Many people do not realize that this building at the Friona Cemetery is a chapel, built and paid for by the Friona Cemetery Association. It is available to be used in case of inclement weather, as a gathering place for family, a shelter for the elderly who need a place to sit and rest, or a chapel for graveside services. In spite of the sign in front, Cemetery Memorial Chapel, some think it is a storage building and owned by the city. It was built and is owned by the Cemetery Association through cemetery fees and donations. Use of the chapel can be coordinated with Blackwell-Mullins Funeral Home.