Obituaries
Jo Scott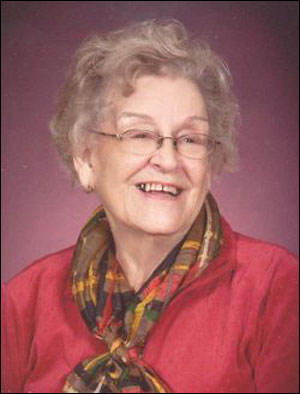 For ninety years, four months, and two days, Jo Annice Cornish Scott lived her earthly life surrounded by loving family and friends. Jo went to her eternal life on July 29, 2014. Burial was held in Oak Grove Cemetery at 10 a.m. Friday, August 1, 2014, followed by a celebration of life at First Presbyterian Church, Graham Texas.
Jo was born March 27, 1924, to Rex and Delilah Robbins Cornish, early Young County pioneers. She was the middle child with an older brother, Rex Lionel, and a younger brother, Jon Rex who both preceded her in death.
Always active in her school years, Jo was a popular, pretty, Graham "Belle". She was a cheerleader, a talent contest winner, and a ray of sunshine to all. She named the Graham High School annual "The Steer" and it remains so today.
Jo married her high school sweetheart, Walter Leon Scott, Jr. (Scotty) on December 26, 1943. He preceded her in death in 1995. They raised their family in Graham. Scotty was overseas during World War II, when their first child Walter L. Scott, III (Dubber) was born. W.L Jr. didn't see Dubber until he was ten months old. Kenneth Rex came next and was quickly followed by Jo Beth. Kenneth preceded his mother in death in 2007.
After her children were in school, Jo helped her mother in Cornish Downtown Flowers and her husband at Scotty's grocery. She and her oldest son later owned and operated Graham Floral. She spent many years designing floral arrangements to delight others. Even after her retirement she worked part-time at Mark's Gallery.
Jo was a dedicated worker and member of First Presbyterian Church since childhood. She helped with Bible school, taught Bible studies, and played hand bells for many years. Jo's life was a witness to others through her sweet spirit and faithfulness.
Mama Jo, as she was known by many, spent her life in Graham. For the past two and a half years, she lived in Friona, Texas with her daughter, Jo Beth and husband Bruce. She was greatly loved and cherished by all her new acquaintances.
Many family members are left with her precious memories: children, Walter Leon Scott and wife Judy, of Graham, and Jo Beth Scott Gipson and husband Bruce of Friona, Texas; six grandchildren, Lisa Scott McCool and husband Larry of Graham, Lee Scott and wife Stella of Austin, Kristen and Kenneth Scott of New Orleans, Louisiana, Kelly Lanham and wife Christy of Graham, and Casey Lanham and wife Lindsay of Houston Texas; and nine great grandchildren- Pecos, Brady, and Larissa McCool, Breana Hyde and Zoey Prosperie, Jake, Hunter, Riley, Walker, and Hollis Lanham.
Luella Mae Dodge Drake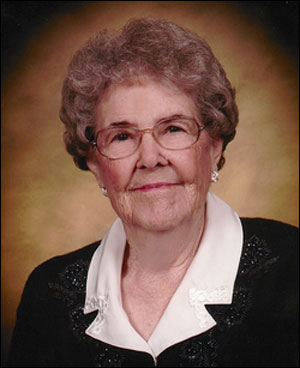 Arthur Drake welcomed Luella Mae Dodge Drake to her heavenly home on Wednesday, July 30, 2014 in Friona, Texas. Friends and family will gathered to celebrate her life of 95 years on Friday, August 1, 2014 at 2:00 p.m. at Friona United Methodist Church with Reverend John Woody, pastor and Reverend Archie Echols of Lubbock, TX. Interment followed in Friona Cemetery by Blackwell-Mullins Funeral Home of Friona, Texas.
Luella was born on March 5, 1919 in Byers, Colorado to Dell and Alta Lamoreaux Dodge. She married Arthur M. Drake on November 9, 1940 in Clovis, New Mexico. Luella was valedictorian of her graduating class of 1937. Luella was a born again Christian, who was a loyal and active member of Friona United Methodist Church. She was a devoted wife, inspiring mother and a trusted friend. Her legacy lives on in her family by her lifelong example.
She was preceded in death by her husband, parents, granddaughter Penny Seiver, a great grandson Aaron Stowers, three brothers, and two son-in-laws, Jerry Brownd and Floyd Reeve.
Luella is survived by three daughters, Erma Brownd of Friona, Betty Reeve of Friona, and Peggy Stowers and husband Jackie of Duncanville, Texas; one sister, Louise Gerstenberger of Byers, Colorado; eight grandchildren; 19 great-grandchildren; and five great-great-grandchildren.
In lieu of flowers, donations can be made to Friona United Methodist Church 301 East 8th Friona, TX 79035 or to Bluebonnet Home Health and Hospice 304 East 11th Friona, Texas 79035.
You may sign the online register book at www.blackwellmullins.com
Gertrude Louise Murphree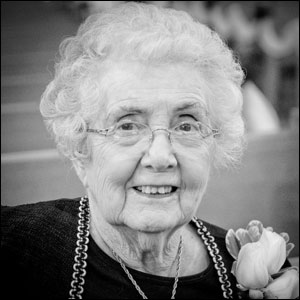 Gertrude Louise Murphree, 89, of Friona, died Wednesday, July 30, 2014 in Friona. Celebration of Life Services were held Saturday August 2, 2014 at the First Baptist Church in Friona with Rev. Brett Hoyle, pastor officiating. Burial followed in the Friona Cemetery by Blackwell-Mullins Funeral Home of Friona.
Gertie was born October 3, 1924 in Hereford to Alonzo B. and Elizabeth Mae Cope Short. She married Curtis Murphree August 30, 1945 in Friona. She was a pioneer of Friona living there almost all of her life. She loved her family and their many activities, but her life was surrounded by thoughts and actions concerning her Lord Jesus Christ. She was a very active member of the First Baptist Church of Friona where she began the church prayer ministry that has touched lives all over the world. Her heart was truly serving God and others. You may read Gertie's Legacy at gertieslegacy.blogspot.com
She is preceded in death by her parents, husband, and one brother, Lawrence Dumont.
Survivors include one daughter, Carolyn Wiseman, and husband Kevin of Friona; three sons, Danny Murphree and wife Linda of Plainview, Harold Joe Murphree and wife Audrey of Duncan, Oklahoma and Jim Murphree and wife Rhonda of Friona; two sisters, Virginia Loflin of Springfield, Colorado, and Imogene Baxter of Eads, Colorado; one brother, Doug Short and wife Tino of Wildorado, Texas; 14 grandchildren; and 17 great-grandchildren.
The family wishes memorials go to the First Baptist Church Gertrude Murphree Memorial Fund 404 W. 5th St. Friona, Texas 79035
You may sign the online register book at www.blackwellmullins.com
Clyde Harold Wyly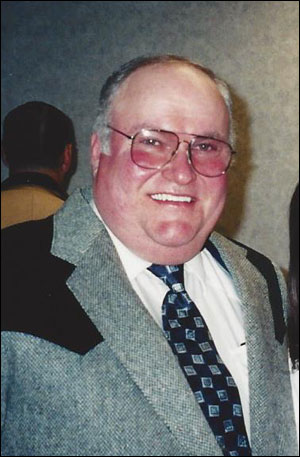 Clyde Harold Wyly, 64, passed away in Amarillo, Texas, Wednesday, July 30, 2014. A memorial service will be held at a later date.
Clyde was born July 16, 1950 in Hereford, Texas to Elton and Glaytus Wyly. He was a master carpenter, wood worker, gunsmith and jack-of-all-trades. Everyone loved and liked to see his great smile.
He is preceded in death by his father.
Clyde's survivors include his mother, Glaytus Wyly; one daughter Jamie Lichtie and her husband, Carlos, of Amarillo; one son Timothy Kline of Guthrie Center, Iowa; three grandchildren Brilon, Lauren and Teegan; three siblings, Wileta Pennington and her husbuand, Terry, of Jolly, Paul Wyly and his wife, Patsy, of Hereford and Deloris McNeely and her husband, Justin, of Hereford; four grandchildren, Michael, Mikaela, Marek and Alexander; three great-grandchildren Lucas and Lillian Kline and Bently Lewis; one step daughter Jennifer Sackett of Amarillo; three step-grandchildren, Madilyn Raff-Hauser, Bentley Britton and Jameson Sackett; one step great-grandson Zaiden Lopez; and special friends the T.J. Lucas Family.
Please sign the online guest book at www.coxfuneralhomeamarillo.com.
Mary Jensen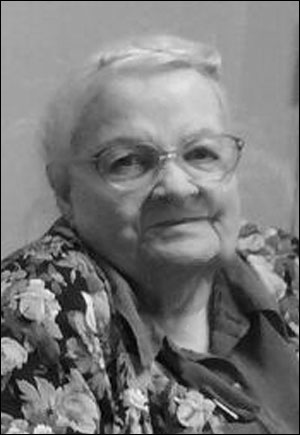 Mary Ellen Jensen, 87, of Friona, formerly of Medicine Bow, Wyoming, died July 31, 2014 in Friona. Memorial services have been scheduled for 11:00 A.M. Monday, August 11, 2014 at the First Baptist Church in Friona with Rev. Brett Hoyle, pastor, officiating. Arrangements are under the direction of Blackwell-Mullins Funeral Home of Friona.
Mary Ellen was born April 22, 1927 in Kearney, Nebraska to Mark Thomas Burns and Minnie Bertha Sohrt Moore. She married Lyndell Lee Jensen May 6, 1950.
She was a longtime resident of Medicine Bow where she was active in the Homemakers Club and many other local and statewide civic organizations. She was admitted to the Agriculture and Mechanical College of Texas in June 1963. That college later became Texas A & M University. She was in one of the first graduating classes of Texas A & M to allow women. In her lifetime she earned double Master's Degrees, one in education and one in geology. She was a member of the St. Luke's Episcopal and First United Methodist Church in Medicine Bow.
She is preceded in death by her parents, husband, one daughter Mary Lynn Jensen, two brothers Mark and Jack Moore.
Mary Ellen is survived by two daughters, Diane Mowery of Friona, and Tanda Martin of Casper, Wyoming; one son, Lee Jensen of Medicine Bow, Wyoming; nine grandchildren; and four great-grandchildren.
You may send memorials to: St. Luke's Episcopal Church P.O. Box 85, First United Methodist Church of Medicine Bow P.O. Box 179 or the Medicine Bow Museum at P.O. Box 187 all in Medicine Bow, Wyoming 82329.
Sign the online register book at www.blackwellmullinscom.
Lorraine Welch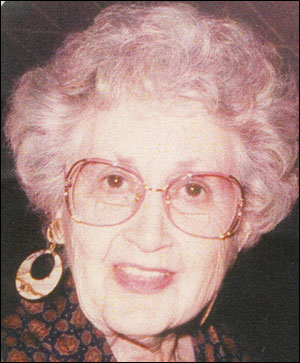 Lorraine Welch, 96, passed away on July 30, 2014, at her home in Friona.
She was born April 19, 1918 in Killeen, Texas. Her family moved to Parmer County in 1924 locating on a farm southwest of Friona. She graduated Bovina High School and, later, Texas Tech. She attended Highlands University in Las Vegas, New Mexico and West Texas State (West Texas A&M). Following college, she taught school at Pleasant Hill, Clovis and Friona. She taught elementary, junior high, high school, college and many Bible classes. Teaching was her passion.
Lorraine married John Bailey on Halloween Day, 1941. They had a son, Bob Watson. John Bailey died in November of 1947. In that same month, Nelson Welch, of Friona, lost his wife, Inez (Miller) and he was left with two daughters: an infant, Monte Sue, and a four-year old, Mikie. With the three children watching, Nelson Welch and Lorraine Bailey were married on May 24, 1949.
She enjoyed entertaining and, in particular, when she and Nelson would host family, friends, school groups, Bible classes and college seminars at Cresta del Monte, the Welch family retreat in the mountains of New Mexico.
She served on the loan committee for the Farmers Home Administration of Parmer County, the first woman to do so in the county and one of the first in the state. She had been a member of the Friona Woman's Club and the Modern Study Club.
Lorraine was preceded in death by her parents, J. M. and Lessie Watson; her husband of forty-seven years, Nelson Welch; her first husband, John Bailey; three sisters, Martha Bates, Doris Boggess and Jamie Lu Lillard.
She is survived by her children, Mikie Bishop and husband Dwayne of San Saba, Texas, their children, Michael and Andrea Bishop of Bartlett, TN, and Buddy and Jessica Bishop of Athens, GA; a son, Bob Welch of Richland Springs, TX and his children, Ben and Veronica Welch of Glen Rose, TX and Katy Welch of Midland, TX; her daughter and care giver, Monte Bailey of Friona and her children, Shawn and Caroline Bailey of San Diego, CA and Heather Bailey of Lampasas, TX. There are eight surviving great grandchildren. Two of her sisters survive, Helen Teague of Cheyenne Wells, CO and Macie Brock of Fort Worth. Murna Miller, her last surviving sister-in-law, lives in Austin. She is also survived by one very special friend, J. T. Hammonds, formerly of Bovina and now living in Cape Girardeau, Missouri.
Believing that flowers are for the living, the family requests that you gift someone you love, a favorite charity or someone in need. Per her request, there will be no funeral or memorial service. She provided funds for a family and friend get-together where stories can be told or retold, tears shed, laughs shared and remember how blessed we were by this marvelous woman. That gathering will be announced at a later date.
The family wishes to express our gratitude to the staff of Bluebonnet Hospice in Friona and to Minda Aguilar for her service and kind treatment of our mother.