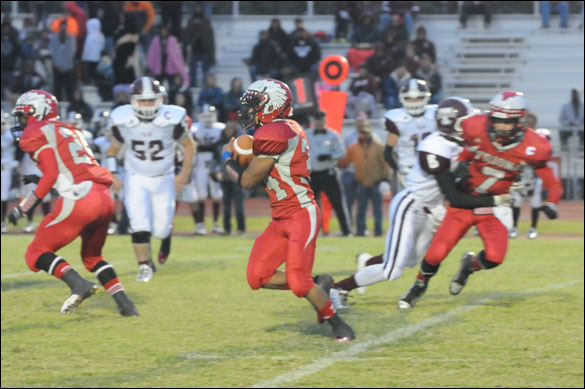 ron carr photo
Luis Trejo (34) takes a pitchout from QB Dallin Woods and looks for running room against the Tulia Hornets. A one-day winter blast had temperatures in the 40s and wind chill in the 30s at game time. The Chieftains lost to the Hornets 39-14. They travel to Idalou Friday September 19 and have an open date Friday September 26.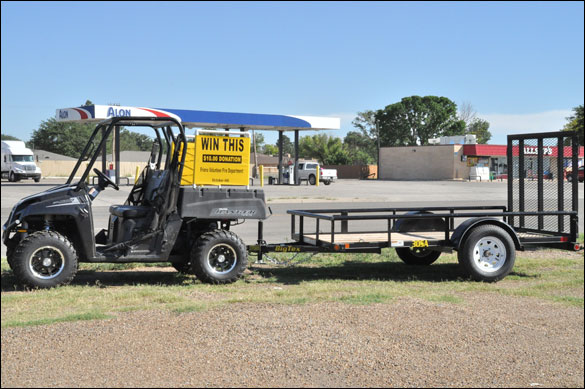 dana jameson photo
You could be the lucky winner of this four-wheeler and trailer at the Maize Days celebration on October 4 in the Friona City Park. The Friona Volunteer Fire Department is selling chances for $10. For tickets contact any firefighter or go by 4-Way Pump at 1400 West Hwy. 60 or after the Maize Days parade.

Freezing wind chill in September? If you were outside last Friday, at the football game like we were, you enjoyed temps in the 40s and wind chills in the 30s. It was a one day winter as temps were back in the 70s and 80s over the weekend. First day of fall is next Monday.
*****
Thanks to the Cargill Meat Solutions cooking crew who braved the cold weather to provide free hamburgers to football fans at Friday night's game. Even though it was cold the fans still enjoyed the burgers. (more...)
Berend wins week two of football contest
Sandra Berend and Clint Mears topped the roster of sixty-nine players with 11 correct picks in the second week of the Friona Star Football Contest. Berend edged out Mears by only missing the tiebreaker by two points. (more...)
By Darla Bracken
Willie Ellen was born October 6, 1919 to William Fidel and Sarah Teague Cogdill in Lone Wolf, Oklahoma. Willie's dad was a farmer and her mother had been a schoolteacher before she married. Willie had an older sister Helen who was about 2 years older. (more...)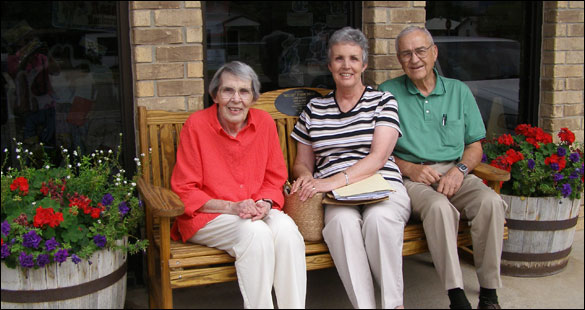 courtesy photo
Billie Fairchild was joined by Phyllis and Johnny Parker on a bench that was dedicated to her at the Friona Library.