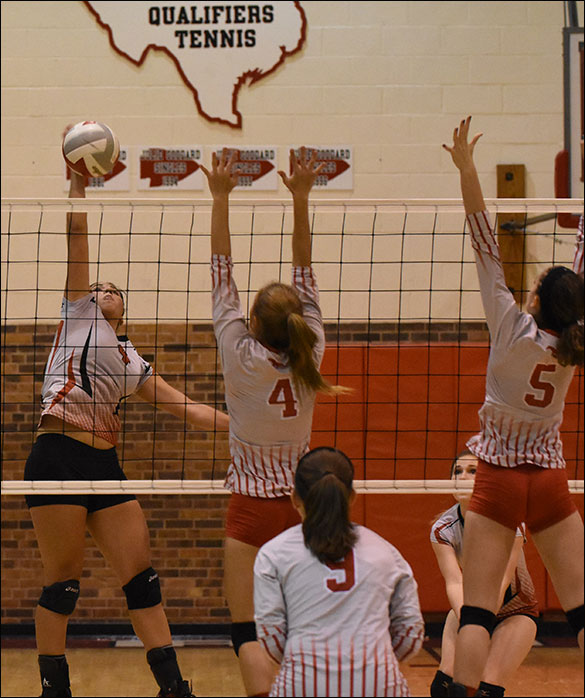 ron carr photo
Erica Barrera (4) goes up and over the Denver City defense. The #3 ranked Fillies beat the Squaws in three games. The Squaws will play Post here Saturday, JV and varsity times 11:00-12:30. District play begins Tuesday as the Squaws travel to Dimmitt.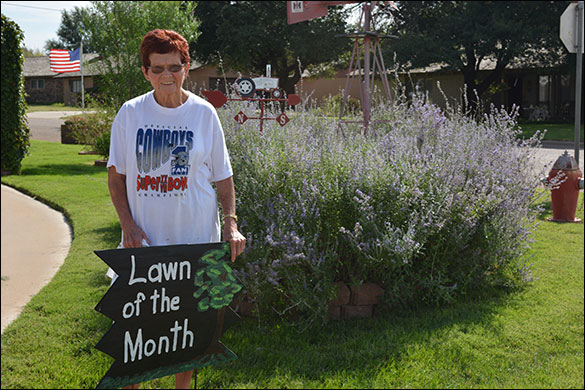 courtesy photo
Donna Teague keeps a trim yard the year around and her work was rewarded with the Bovina Chamber Of Commerce "Beautiful Yard Award" for August 2015. Bovina Chamber of Commerce recognizes that Bovina is a very pretty town and chooses to honor those who work so hard to keep their homes attractive. Local residents are also awarded cash prizes for the best Christmas decorations in December. The chamber thanks Mrs. Teague and all the others who contribute to the appearance of our town.

The weekend is going to be cooler. High temps in the 60s Saturday and Sunday early reports say. Off and on rain forecasts too. Fall is definitely on the way. In September we have recorded 2.93" of rain in the city.
*****
A couple of lucky winners from out of town during Maize Days. The fire department ATV was won by a former student in town for the all-school reunion, Don Hoover, Class of '67. Then the Chieftain Band TV raffle was won by the Garcia family of Olton. They were in town for the Chiefs vs. Olton football game and bought band raffle tickets at the game. The Garcia's daughter is drum major of the Olton Band. (more...)
Sheriff's Office to host National Night Out
The Parmer County Sheriff's Office will be hosting a "National Night Out" on Tuesday, October 6 from 6 p.m. to 8 p.m. at the Sheriff's Office at 300 4th Street in Farwell. They are inviting everyone county-wide including Friona, Bovina, Farwell, Lazbuddie and Rhea to come out and enjoy hamburgers, drinks, games, music, prize giveaways and lots more.
The National Night Out (NNO) is a cooperative effort designed to bring communities together with Law Enforcement and First Responder agencies. The NNO promotes police-community partnerships and neighborhood camaraderie to make neighborhoods safer, better places to live. (more...)