From Coach Bryan Masse
The Friona Squaws varsity volleyball season came to an end with a hard fought loss to the Shallowater Fillies Saturday November 7 at Rip Griffin Center in Lubbock.
The first game was one for the ages as it went back and forth with both teams having a chance to win. Shallowater prevailed 34-32 in one of the longest games Coach Masse has ever been a part of.
After the tough loss in game one the Squaws could have been really done but the girls showed what they were made of and came back to win game two 25-23. Coach Masse said he was really proud of the girls as they showed they could play with a top ten team.
The third game the Squaws never got on track and lost 25-16. Shallowater got more aggressive on their serving and the girls passing was off so it made it hard to run our offense. Game four was also back and forth and the Squaws looked like they were going to win and take the Fillies to a fifth game but the Fillies made enough plays when it counted and won 25-22.
There were three really close games and they won two of them. If we had won either one of the close games we lost I feel like we would have won the match. The kids played hard and gave a good effort. I am very proud of what they did this year.
The Squaws finished the season 26-13 and 5-1 in district. The season record of 23-16 is the best overall record for Squaws volleyball and ties the record for most wins. It is also the second time the Squaws have been district champions. Thanks to all of our fans for supporting us this year.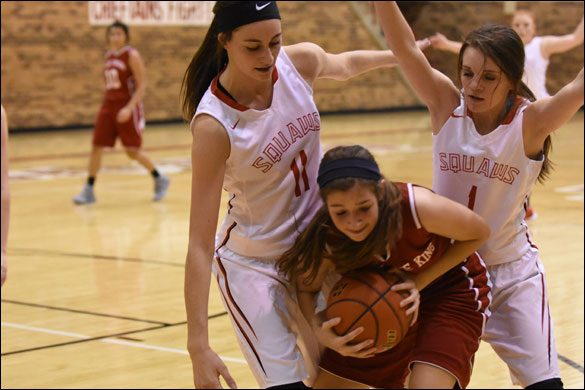 ron carr photo
Basketball season got underway last week. Squaws Kim DeWit (11) and Taylor Stallings (1) overwhelm this Lubbock Christ the King player. The Squaws won the opening contest 60-26. Coach Darrel Ray experimented with his squad which has several new girls, including a couple of freshmen. The teams host Lazbuddie here Friday November 20. JV at 5:00, varsity girls at 6:30, and varsity boys at 8:00 p.m.